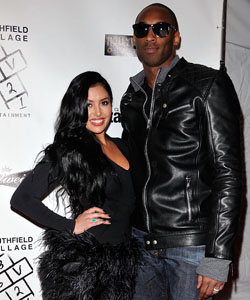 Posted by
Ben Golliver
.
Los Angeles
Lakers
All-Star guard
Kobe Bryant
is facing some trouble on the homefront.
The Associated Press reports that Vanessa Bryant, Kobe's wife, has filed for divorce.
Kobe Bryant's wife, Vanessa, has filed for divorce from the Los Angeles Lakers star.

Vanessa Bryant filed papers Friday in Orange County Superior Court in Santa Ana, citing irreconcilable differences as the reason for the split.

A representative for the couple released a statement saying, "The Bryants have resolved all issues incident to their divorce privately with the assistance of counsel and a Judgment dissolving their marital status will be entered in 2012."

The couple have been married for 10½ years and have two daughters, ages 8 and 5.

In the statement, the Bryants "ask that in the interest of our young children and in light of the upcoming holiday season the public respect our privacy during this difficult time."
The marriage has had its share of problems.
Back in 2003, after a Colorado woman alleged that Bryant
sexually assaulted her
, Bryant
presented his wife
with a $4 million diamond ring after she stood by him publicly.
Bryant, 33, is entering his 16th season with the Lakers.
According to Basketball-Reference.com
, Bryant has earned more than $196 million in salary during his NBA career. Bryant is on the books for $25 million for the 2011-2012 season, tops in the NBA
according to Forbes.com
, and has an additional $57 million owed to him in 2012-2013 and 2013-2014 combined.
SI.com reports
that Bryant makes at least $10 million per year in off-court endorsements.
TMZ.com reports that the Bryants did not have a prenuptial agreement.