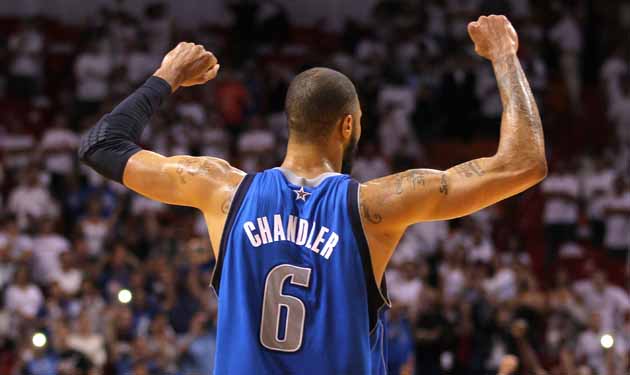 By Matt Moore
All the big names have landed, and while there are still a handful of guys working out where they'll be playing in 2011-2012, we have a pretty clear image of how free agency worked out this year. So to give you a recap on how teams managed to do, here are your winners and losers for NBA free agency.
WinnersNew York Knicks:
It takes a lot for them to get a winning status when they picked up
Mike Bibby
and re-signed
Jared Jeffries
.
Tyson Chandler
is a lot. Chandler
gives them exactly what they need at center
, for a reasonable price considering he's coming off winning the Finals as a difference maker starter and compliments
Amar'e Stoudemire
well. This could wind up as a disaster, but for pursuing defense over offense and size over speed, they get into the winner's circle.
Los Angeles Clippers:
Two days ago I would have planted the Clippers in the losers circle with a dunce cap. $24 million for
Caron Butler
over three years
?
DeAndre Jordan
for a ridiculous price
? Are they stoned in Clipperland?
Chauncey Billups
who may or may not hate the ground you walk on for denying him free agency? But then they landed
Chris Paul
. And you go "Oooooooh" like you just figured out that they got off the island and it's a flash-forward not a flash-back. Shooters to go with Paul, veteran defenders to go with Paul, and the big man to provide long-term support for Griffin. The Clippers avoided disaster by getting CP3. But funny how that makes everything seem better.
Miami Heat:
Eddy Curry
already looks like a waste (has had conditioning issues already). Mario Chambers is a divisive point guard, but he's
good enough to start for a team with no cap space
. Landing
Shane Battier
,
though, genius
. Battier is going to miss threes like all Heat spot-up shooters do. But he's going to make their defensive rotations even better, their team chemistry even better, their basketball IQ even higher. He's worth the money and a win for them.
Indiana Pacers:
We were all convinced the Pacers were going to splash onto the scene and overpay for a big man in such a way as to cripple the franchise. Instead, they got
David West
on a low eight-figures, 2-year deal
that guarantees if his knees or production go, they have options and are not stuck. They re-signed
Jeff Foster
to give them another center, and they were prudent with not re-signing
Josh McRoberts
for more than he was worth. Good upgrade for them.
Phoenix Suns:
Shannnon Brown is a great fit for the system, and they managed to convince
Grant Hill
to return. Brown in the run-and-gun system under Gentry should excel with
Aaron Brooks
stuck in China. Hill still played brilliantly last season and staying in Phoenix means he stays with that training staff which has extended his career after one filled with injury issues. The Suns didn't make any significant step forward, but in terms of just making good value signings, they did as well as most.
Mid-level centers:
Kwame Brown
got one-year, $7 million. DeAndre Jordan made out like a bandit.
Marc Gasol
walked away with more money than
Kendrick Perkins
and Nene (though Gasol is arguably the best free agent in this class, just without the name value). It's a league short on legitimate star centers, and while the biggest free agent center names (Chandler, Nene,
Greg Oden
) did not land monstrous deals, the mid-level centers available rose up to meet in the middle of the band. Good year to get paid.
LosersBoston Celtics:
They had David West stolen out from under them in the midst of the Chris Paul debacle. They re-signed
Marquis Daniels
which isn't bad but isn't great. They traded Glenn Davis in a sign-and-trade for
Brandon Bass
which is pretty good but doesn't address most of their concerns. They gave Jeff Green a big one-year deal
after which it was discovered he will miss the entire season
after surgery when a heart condition was revealed after a stress test. Their bench is unbearably thin with starters that can't log big minutes. No, it was not a good few weeks for the Celtics.
Orlando Magic:
Giving
Jason Richardson
and
Glen Davis
mid-size contracts is not
the way to keep
Dwight Howard
, I don't care how good a friend he is with them. The Magic sacrificed their future, which is going to become very important to them in the next six months, in order to try and make another run with the same team that didn't succeed last year, plus Davis
who is a big who doesn't help their issues
in rebounding and has conditioning issues. Re-signing
Earl Clark
doesn't make a big enough impact to matter.
Detroit Pistons:
Re-signing Tayshaun Price
at that price makes no sense whatsover
, especially not for four years. They need to be looking to the future. I understand the desire to reward Prince for his time and send him off in Detroit white, but this team has questions it has to answer quickly, and Prince gets in the way of development for
Austin Daye
and
Jonas Jerebko
.
Rodney Stuckey
's re-signing gets in the way of
Brandon Knight
's development and continues his very mixed-results stay in the Motor City.
Dallas Mavericks:
Maybe 2012 will make up for it. But if we're just judging the Mavericks on what they gave up and what they got back, this wasn't a good offseason. Even outside of the trades which brought in a quality player and sent two out, Dallas lost its starting center and part-time starting two-guard in agency, without really bringing in anyone. They're deep enough to survive it but this was a team that would have been considered favorites had they brought back the gang. As it is, there are questions about the Mavericks this season and beyond.
New Orleans Hornets:
Setting aside losing Chris Paul in trade and impending free agency, the Hornets re-signed
Carl Landry
for a high one-year deal and brought back
Jason Smith
for three years. The deals are cheap. It's not a bad set of deals. But it's still a little perplexing considering the overwhelming need for this team to tank in order to ensure a top five pick to go with
Arron Afflalo:
Afflalo hasn't signed yet, which isn't a problem but the fact that no team was willing to bother with making him an offer knowing the
Nuggets
would match means he may not sign for as much as he could have. Bear in mind DeAndre Jordan is a less established player than Afflalo and was helped by the
Warriors
' attempt to free him from Los Angeles. Afflalo could have likely wound up with top dollar as an unrestricted free agent. Denver may wind up as the best thing for his career, though.