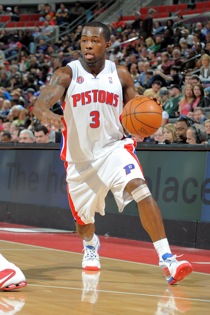 By Matt Moore
The
Pistons
don't seem to quite know where to go with themselves. They continue to draft young quality players like
Greg Monroe
,
Jonas Jerebko
,
Austin Daye
, and
Brandon Knight
, who showed a much-improved skill-set on Friday night in a preseason tilt against the
Cavaliers
. And at the same time they keep giving long-term contracts to veteran players. They re-signed
Tayshaun Prince
to 4-years, $27 million. And on Saturday, they re-signed
Rodney Stuckey
to a three-year, $25 million deal
via Yahoo Sports
.
Stuckey posted an 18 PER last season, posting career numbers in multiple categories. He's only 25 and is entering his prime. Then again, he was also part of the tumultous locker room for Detroit last year, siding with Rip Hamilton and the veterans he's played alongside for the duration of his career against John Kuester, according to reports. Kuester was clearly a problem, but Stuckey was part of the drama last year.
Outside of last season, however, there haven't been reports of trouble with Stuckey being coachable. The bigger concern is the logjam it creates in the backcourt for the Pistons. Brandon Knight looked very much like an actual point guard against the Cavaliers'
Kyrie Irving
.
Will Bynum
has been a consistent change-of-pace guard. And
Ben Gordon
has too much money invested to bury. So where does Stuckey fit in? He can play starting two-guard, but is a ball-handler.
It's just odd that with a solid core of young players, the Pistons seem intent on simultaneously going forward with veteran talent and building through the draft. The lack of direction in Detroit continues to perplex, but with Lawrence Frank, maybe the results will change.