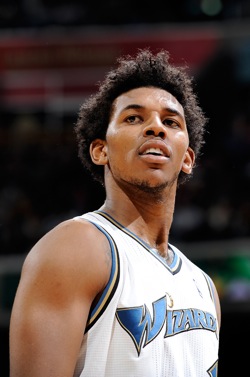 By Matt Moore
The
Washington Post first reported
it Sunday night, and on Monday the
Wizards
made it official
,
Nick Young
will remain a Wizard for another season.
Young signed a one-year qualifying offer with the Wizards in restricted free agency Monday, which will allow him to enter unrestricted free agency in 2012. Young's offer of $3.7 million for the season comes after a disappointing free agency period failed to net the long-term offer sheet Young was no doubt hoping for, due to teams' strong belief the Wizards would match any such offer.
Young is a slightly above-average scorer with few other patented skills, but is only 26 and two-guards are becoming a bit of a premium in this market. He should pull in better offers next summer.
It's surprising that Young didn't receive an offer good enough to sign, but movement in restricted free agency was largely limited this time around, thanks in part to the restructured CBA.