Posted by Ben Golliver.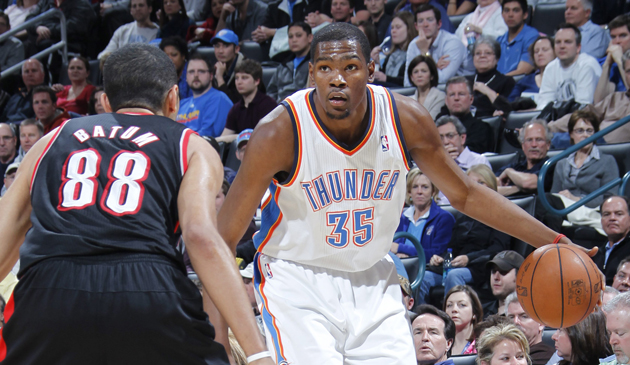 We're less than one week away from the start of the 2011-2012 NBA season. After an interminable lockout and a rushed free agency period, here's a first look division-by-division preview at how the league is shaping up. We continue with the Northwest Division.
2011 Standings
1. Oklahoma City Thunder, 55-27, lost in Western Conference Finals
2. Denver Nuggets, 50-32, lost in first round of Western Conference playoffs to Oklahoma City Thunder
3. Portland Trail Blazers, 48-34, lost in first round of Western Conference playoffs to Dallas Mavericks
4. Utah Jazz, 39-43, NBA Draft Lottery
5. Minnesota Timberwolves, 17-65, NBA Draft Lottery
Best team: Oklahoma City Thunder

The young, deep Thunder arguably bring the fewest questions to the table of any NBA team to start the 2011-2012 season. Are they in shape? All-Star forward Kevin Durant and key reserve guard James Harden stayed the busiest during the lockout, going on whirlwind streetball and charity game tours but guard Russell Westbrook kept busy and fit while taking classes at UCLA and big man Serge Ibaka played for Real Madrid. How will the Thunder react to the abbreviated preseason and condensed regular season? With a core that is essentially 25-years-old or younger they should be prepared to take it in stride.

The biggest question for Oklahoma City is how they respond to being a target rather than a team on the rise. Having won two playoff series last year and entering this season with expectations of being a top-3 team in the West, their task becomes fighting off all the teams gunning for them rather than sneaking up on veteran teams or overwhelming average teams with their talent. Durant is as laser-like as superstars get so you can assume the Thunder will adjust smoothly, but that process is often easier said than done.
Worst team: Minnesota Timberwolves

This might just be the year when Minnesota transforms from laughingstock from must-watch League Pass team. The addition of coach Rick Adelman has drawn considerable praise and he brings a level of professionalism and poise that's been lacking in the land of 10,000 lakes. He also gets a bunch of new talent to work with, including long-anticipated Spanish point guard Ricky Rubio, 2011 No. 2 overall pick Derrick Williams and free agent signing J.J. Barea. The centerpiece is still All-Star forward Kevin Love, who doesn't have much help up front. The Timberwolves still aren't likely to scare too many teams this year, but they just might eke out some wins by catching people napping when in previous seasons teams were able to sleepwalk through them.
Biggest surprise: Denver Nuggets
The Nuggets qualify as the biggest surprise because... who are they? Coach George Karl, point guards Ty Lawson and Andre Miller and re-signed center Nene Hilario are the known quantities, but otherwise it's plenty of question marks. Will new addition Rudy Fernandez finally evolve into an emotionally mature NBA player? Will any of the Nuggets trapped in China find their way back to the Mile High city? Karl is a master at pulling together difficult situations and he certainly has his hands full.

Three Best Players: Kevin Durant, Russell Westbrook, LaMarcus Aldridge
Durant drew some MVP whispers last season and yet still had to fight off critics who believe he is actually the second best player on his own team, thanks to Westbrook, the NBA's most dynamic and explosive point guard. It's a potent 1-2 tandem and the pair have said all the right things about working together towards a title rather than competing for the limelight.

The third best player in this division is a bit up for grabs, with Aldridge, Nene and Love all making legitimate cases for consideration. Love beat out Aldridge for the final 2011 All-Star spot but Aldridge's athletic, dominant two-way play and Portland's winning ways over the balance of the season proved that was an oversight. For Nene, it's time to take a step forward in Denver's first full post-Carmelo Anthony year. His mega-dollar extension and the absence of Kenyon Martin demands it.

Biggest Question: How does Raymond Felton fit in with the Blazers?
New point guard Raymond Felton landed in Portland thanks to a draft day trade that sent Miller to Denver. Felton's higher-octane game will be a new look in the Rose City, where the Blazers have been most comfortable as tortoises in recent years thanks to the deliberate play of Miller and former guard Brandon Roy. Felton's desire to push tempo must mesh with coach Nate McMillan's demand to keep turnovers at a minimum and his desire to create his own offense must mesh with shoot-first guards Wesley Matthews and Jamal Crawford, while still ensuring that Aldridge gets plenty of touches. Felton is in a contract year so, while the demands are many, the potential rewards are great, too.

2012 Projected Standings
1. Oklahoma City Thunder
2. Denver Nuggets
3. Portland Trail Blazers
4. Utah Jazz
5. Minnesota Timberwolves