Posted by Royce Young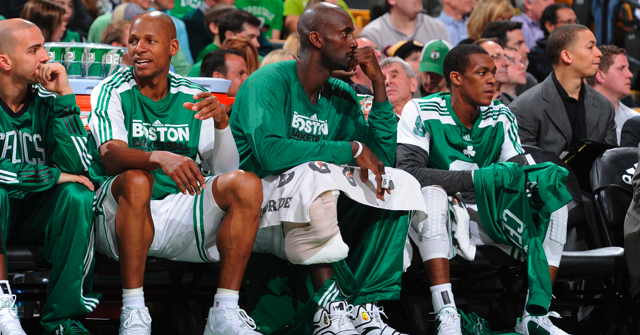 For a couple of hours, the Boston
Celtics
thought they landed a premier power forward to help make one more run at a championship. But then
David West
changed his mind and went to the
Pacers
, taking more money in the process.
West took a two-year, $20 million deal from the Pacers, turning down a three-year, $29 million offer from Boston. (The Celtics deal was a sign-and-trade thing and really complicated.) And while that deal is better for West in three ways -- a) he gets more money b) it's less years meaning he can get back on the market after proving his knee is fine and c) he gets to be a starter whereas in Boston he'd be playing behind
Kevin Garnett
.
Yes, he'd have a better chance at a championship, but that dog doesn't always rule for some players. They all want it, but there are other factors. Doesn't matter to
Ray Allen
though,
who told ESPN Boston
that West done messed up.
"Once it got down to the end, I think his ego kicked back in," Allen said. "He wanted the dollars. I guess it comes down to 'What is a championship worth to you?'

"Think of all the guys who have made $20 million and could be considered one of the best ever, but they get chided because they never won. We [the Big Three] all had to do less when we won. We're still taking less to make it work. But it's worth it. No one can ever say to KG, Paul or me, 'You guys never got your ring.'"
Let's break it down: West gets $10 million a year in Indiana. He would've gotten $9.6 million a year in Boston. I'm pretty sure an extra $400,000 a year didn't make this decision for West. And for Allen to think that West just took money over the chance to win a title is a pretty serious charge. Because in professional sports, the desire for a championship is supposed to be what it's all about and to challenge a guy on not having that isn't holding back.
There was really no questions for me when West picked Indiana. It's not like he went to the
Raptors
or something. He went to a team that's ready to compete now. He went to a team that was in the playoffs last season and had they figured out how to score in the fourth quarter, might have upset the
Bulls
. And guess what? West could very well be a major part of figuring out how to score in the fourth quarter.
Allen is understandably miffed that West passed over the Celtics. This offseason has been rough on Boston. They lost Jeff Green for the season, didn't score
Chris Paul
while pretty much hanging
Rajon Rondo
out to dry in trade talks. It wasn't pretty for the Celtics and Allen might feel like their window is slowly closing shut.
Or he just felt like calling out David West. Either way, it was pretty weak.
Via PBT