Posted by
Ben Golliver
.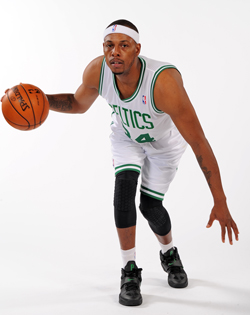 Paul Pierce
may not make it home in time for Christmas.
ESPNBoston.com reports
that the Boston
Celtics
All-Star forward might be forced out of the team's Dec. 25 season opener against the New York
Knicks
because of a bruised heel.
Asked if he was concerned about Pierce's health, Rivers said not in the long-term, but very much so for the start of the season when the Celtics play three games in four days.

"We have [three] games right off the bat and he's really gone only one practice and that's basically it," said Rivers. "So, yeah, I'm concerned about it. It's just a heel bruise and he went real hard [Monday] and it got real sore. We just want him to rest. The problem with that is, it'll be a lot of rest, and then he may be ready, but with no play, there's that."

Rivers said he'd like to get Pierce on the floor on Friday and hopes he'll be able to go in time for Sunday's season-opener in New York. They simply don't want to rush him after the setback on Monday.
Pierce, 34, has been fairly durable in recent years, missing a combined 16 regular season games over the last four seasons.
His absence will be felt mightly by the Celtics, who are still reeling after forward Jeff Green was advised to undergo
season-ending heart surgery
and free agent target
David West
opted to sign
with the Indiana
Pacers
instead. If Pierce can't go, Rivers will turn to wing
Marquis Daniels
, who suffered a scary season-ending
spinal injury
last year, to match-up against Knicks All-Star forward
Carmelo Anthony
. Good luck with that.