Posted by
Ben Golliver
.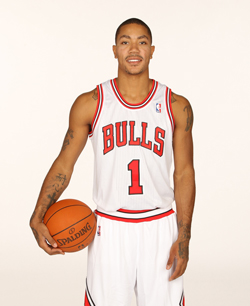 2011 NBA MVP
Derrick Rose
will lead the Chicago
Bulls
for the next five years.
The Associated Press reports that the Bulls and Rose made the 5-year $94 million contract extension official in a ceremony on Wednesday in Chicago. The deal does not include a player option on the final year of the deal, per Rose's request.
"I think I can finally say this now. Mom, I finally made it," he said.

"He embodies all the characteristics that you look for," coach Tom Thibodeau said. "It's a lot more than the talent. The talent is the obvious part. Then, when you look at his will to win, basketball IQ, unselfishness, his humility - I think those are the things that you can build a championship-caliber team around."

"I don't think you can put a ceiling on what Derrick can become," general manager Gar Forman said. "It's scary to think that I think he'll continue to get better and better throughout his career."

The extension could bring some more pressure. Rose shrugged it off. He said money is "the last thing I think about."

"Coming from where I'm coming from, I can't explain it," he said. "I really can't explain it. I never would have thought in a million years that I would have signed a contract like this, especially coming from an area where I'm from. No one from Englewood has ever been in my position so sometimes I think, `Why me?"'
The Chicago Tribune reported
on Tuesday that the Bulls would formally announce the signing of Rose to a 5-year contract extension worth more than $90 million on Wednesday.
Derrick Rose has agreed to a five-year, roughly $94 million contract extension, and the Bulls plan to make the formality official at a Wednesday news conference at the Berto Center, sources told the Tribune.

The extension is for about $10 million to $11 million more than Rose would have been eligible for under the previous collective bargaining agreement. A new rule that has been nicknamed the "Derrick Rose rule" rewards players who outperform their rookie scale contracts. Rose qualifies for one of the three stipulations as he became the youngest most valuable player in NBA history last season.

The extension will begin in the 2012-13 season and can start at about $16 million in the first year.
Inking Rose, 23, to a maximum contract extension is as easy a decision as you will ever find in basketball operations. By any measure, his value is off the charts.
The year before he arrived, Chicago won 33 games; last year, the Bulls went 62-20. In his three NBA seasons, Rose has missed just six games in winning the 2009 Rookie of the Year award, being named to the 2010 and 2011 All-Star teams and capping it all off with an MVP campaign in just his third season while leading Chicago to the Eastern Conference Finals. He averaged career-highs in points, assists, rebounds, steals and blocks last year while upping his 3-point and foul shooting percentages. Give me a break.
Word that Rose and the Bulls were closing in on a contract extension first surfaced
last week
.