Posted by
Royce Young
and
Ben Golliver
.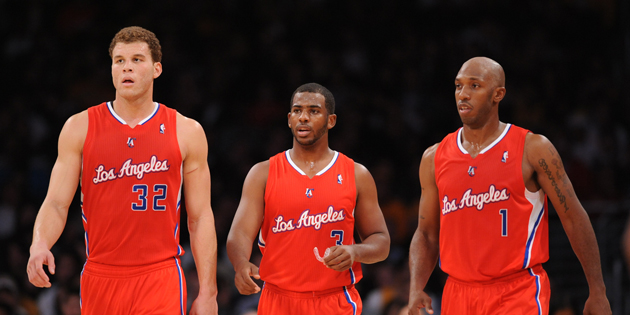 The 2011-2012 NBA season starts on Sunday, and with that comes the inaugural batch of
CBSSports.com's NBA Power Rankings
by Eye On Basketball's Matt Moore.
What did he get right? What did he get wrong? We're here to break it down and take it down.

1. Too High: Memphis Grizzlies at No. 7
Let's pump the brakes just a bit on the Grizzlies bandwagon right now. They look good and they made a lot of noise in the postseason, but how much of that was overachievement? How much of that was because of favorable matchups? The Grizzlies could be a really nice team, but a top eight power? I'm not ready to go there until they show they're actually something to be taken seriously. -- RY
2. Too Low: Portland Trail Blazers at No. 17
The Blazers had about as sucky an offseason as you could have. And we're talking about the Blazers here, a team that's had their fair share of sucky things.
Greg Oden
had his annual setback, Brandon Roy retired and the team still doesn't have a general manager. That said,
Jamal Crawford
is a perfect signing,
LaMarcus Aldridge
may be the West's best power forward and Nate McMillan seems to keep winning despite all the crap that falls down around him. -- RY
3. Most Overrated: Boston Celtics at No. 6
The roster is worse at virtually every position, injuries are mounting and Father Time is grasping to claim this group with both hands. The Celtics were dropkicked out of the playoffs by the Miami
Heat
, and the gap between the two teams has transformed into a canyon. The Big 4 can still get it done but they aren't scaring teams like they once did. It's possible to show the veterans too much respect, and that's what happened here. -- BG
4. Most Overlooked: Indiana Pacers at No. 12

The small-market Pacers have the best roster that no one is talking about. With talent at all five positions, a former All-Star added to the mix in
David West
plus expected growth from
Paul George
, Indiana could wind up being a top-5 team in the East. Their frontcourt has sneaky depth thanks to
Jeff Foster
,
Jeff Pendergraph
,
Lou Amundson
and
Tyler Hansbrough
, four guys who will do the dirty work and make life easier for West and franchise guy
Danny Granger
. More credit due! -- BG
5. Sure Thing: Toronto Raptors at No. 30
They stink. There's no way around it. I like
DeMar DeRozan
. I like
Andrea Bargnani
. I like Dwane Casey. I want to like the Raptors. But they aren't going to be good. -- RY
6. Wild Card: Los Angeles Clippers at No. 9
Take one look at the highlights from their preseason opening win over the
Lakers
and it's tempting to think the Clippers should be much higher than the No. 9 spot. Is No. 3 or No. 4 really out of the question for the league's latest and greatest flavor of the month? Of course, it's one thing to fill up highlight tapes and it's another to stack up wins. Where the Clippers settle in the West's hiearchy will be one of the biggest NBA questions to watch in January. -- BG