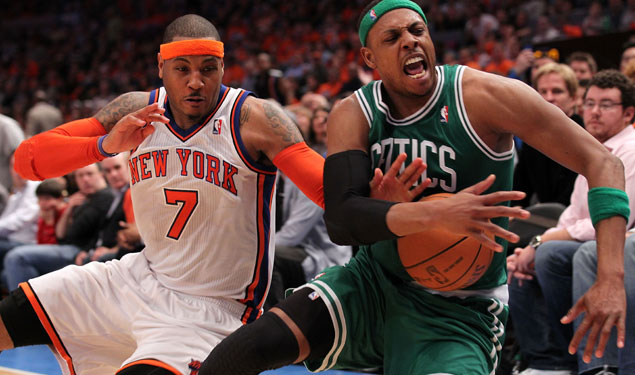 By Matt Moore
We're less than a week away from the start of the 2011-2012 NBA season. After an interminable lockout and a rushed free agency period, here's a first look division-by-division preview at how the league is shaping up. We finish with the Atlantic Division.
2011 Standings:
Boston
Celtics
, 56-26, lost second round of Eastern Conference Playoffs to
Heat
, 4-1
New York
Knicks
, 42-40, lost first round of Eastern Confernce Playoffs to Celtics, 4-0
Philadelphia
76ers
, 41-41, lost first round of Eastern Conference Playoffs to Heat, 4-1
New Jersey
Nets
, 24-58, NBA Lottery
Toronto
Raptors
, 22-60, NBA Lottery
Best team: Boston Celtics
One more year. That's what the Celtics get. One more year to rule the roost. The Celtics have one more ride left with this core and then it's a sail off into the sunset while the team tries to figure out how to rebuild around
Rajon Rondo
. But with the extra time off,
Kevin Garnett
,
Ray Allen
, and
Paul Pierce
should be in good shape to make one more run at a title in order to validate themselves as one of the truly great teams of this era. (Pierce is already questionable for Sunday's opener vs. the Knicks.)
Without a second title, the Celtics have to be considered a disappointment. Winning a championship is supposed to validate everything, yet the Celtics were supposed to win multiple titles when the Big 3 formed. Good enough for the rest of the league is not good enough for the Celtics. But injuries and then a slow fade has denied them, as well as improvements in star power for the Heat and
Lakers
. The Celtics are still a dominant team, built around defense and reliable offensive weaponry. Their veteran experience helps them dismantle younger teams and their toughness helps them outlast weaker, more explosive teams.
But there's no stopping age, and this team is at the end of its run. They've got once chance, with a phenomenally weak bench, tougher competition, and continuing injury issues to try and surprise everyone and go out on top. One more chance to ride off into the sunset. Saddle up.
Worst team: Toronto Raptors
The Nets are hanging above this spot by a thread. A thin thread. A very, very thin thread. They have questions at every position except point guard and coach Avery Johnson has not taken the team by storm. But
Deron Williams
and the possibility of getting
Dwight Howard
keeps them out of the bottom.
We know who the Raptors are. They don't rebound. They don't defend. They struggle with toughness. They don't have a star. They don't have any complete offensive players. But there's reason to believe they might shake this bottom spot. Dwane Casey comes from Dallas with a determination to change the culture defensively.
DeMar DeRozan
has the chance to take the next step.
Ed Davis
looks like a beast in the making. There are good players on this roster. Unfortunately, everything hinges on everyone's least favorite Raptor,
Andrea Bargnani
. The fans are done with Bargnani for his lack of defense and rebounding. Unless he comes out dominant in the paint, he'll continue to be the object of scorn. With no real center on the roster (Jamal Magloire is starting), it's hard to see any real improvement for the Raps. They'll likely be at the bottom of the division, but there's always a chance they can surprise.
Biggest surprise: New York Knicks
The Knicks are going to surprise one way or another. Because if they fail to secure a top-five pick this season, it will be a letdown.
Carmelo Anthony
,
Amar'e Stoudemire
, and
Tyson Chandler
can't make a top-four seed? And if they do make a top-four seed, it means that the Knicks have started to play defense, which is a stunner all its own.
The Knicks are at once a title contender and a non-factor in the Eastern Conference. It's just a matter of which side of the Hudson you're on. Melo is either going to be an MVP candidate, or fail miserably at point forward. Tyson Chandler is either going to make all the difference, or be an injury-prone non-factor who can't cover for all the other weaknesses. There's little in-between. But the Knicks in a full season together with a better combination of talent should take a step forward. This is a super-team that has not been built with a clean carving. It's rough, it's wild, and it operates for the most inventive head coach in the league. The Knicks may wind up exactly where they were last season.
But the ride should be full of surprises for someone, anyway.
Three Best Players: Deron Williams, Kevin Garnett, Amar'e Stoudemire
I couldn't win here. I left off Carmelo Anthony, which is going to drive Knicks fans batty. I included Amar'e Stoudemire, which is going to light the fires on half the people who read this. I excluded Ray Allen, the best pure shooter in the league. Paul Pierce isn't on here despite being the clutchest of the clutch. Kevin Garnett's on here, and some people think he's past the point of no return.
Andre Iguodala
is one of the best all-around players in the league and he's not even close to being on here. Deron Williams' team may win 20 games this season and he's on here. And Andrea Bargnani... no. Andrea Bargnani would not be on here. But the point is this division is long on players with top level ability. There are seven to eight names you can put on here as "the best."
Biggest Question: Can the Knicks gel?
Putting together a three-headed monster all in the frontcourt is a risky proposition. There's not a player to bind it all together. No creator. The absence of a viable point guard for the Knicks, at least until
Baron Davis
gets healthy, means that the frontcourt has to run an offense itself. It's like asking a plane to fly itself without navigation. The Knicks were up and down all season, including during the stretch with Melo and STAT, mostly on account of not knowing how to work with one another. But with one being a high-usage small forward and the other being a high-usage power forward, can they work together? Is this a combination of players that makes sense?
The Knicks can win with this group because stars win games. But can they win the big games, can they make the jump to an elite team? More importantly, can they establish an identity going forward? The Knicks have tossed together two of the best players in the game and then added one of the best big men in terms of rebounding and defense out there. But can talent alone spell greatness? And if not... what does that mean for Mike D'Antoni?
2012 Projected Standings:
1. Boston Celtics
2. New York Knicks
3. Philadelphia 76ers
4. New Jersey Nets
5. Toronto Raptors