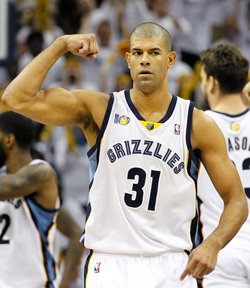 Posted by Royce Young
The
Heat
will already be without center
Eddy Curry
for Sunday's opener in Dallas. OK, so that's not such a big deal, but Miami might be missing their big offseason signing as well.

Via Heat Index
,
Shane Battier
is questionable for Sunday's game because of a strained left thigh. Battier hasn't practiced much since signing with Miami, but did go through a 45-minute workout on Thursday and a conditioning session on Friday. The problem is, Battier told reporters he's yet to really test the leg out though.
"How about a strong maybe?" Battier told reporters when asked about his status. "I'm going to try to practice tomorrow and see how it goes. It's progressing well. But with an injury like this, you don't really know where you are until you're in the heat of battle and you have to react and change directions, cut hard and stop hard. You can't simulate that in shooting drills on the side."
Obviously no huge rush for Miami as the player in front of Battier,
LeBron James
, can probably kind of handle things on his own. Battier was more of a depth addition to help defend other premier scorers for stretches and give LeBron a break. And there's even the potential for Erik Spoelstra to get creative, moving LeBron to defend point guards,
Dwyane Wade
on the 2 and Battier defending the wing. Which is going to be awesome.
Curry on the other hand is out because of a strained hip flexor he suffered early in training camp. Curry is on a one-year, non-guaranteed deal, but he's expected to make the final 15-man roster.
Battier wants to be 100 percent before joining his new team on the court, especially with the crammed 66-game season. There's no room for an injury to nag a player for an extended time.