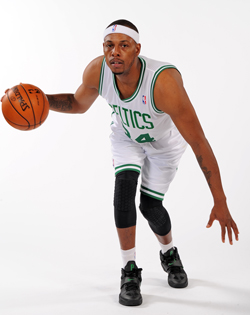 By Matt Moore
and
Ben Golliver
.

Update (Christmas morning)
:
Boston.com reports
that
Celtics
forward
Paul Pierce
has been ruled "out" for the Christmas Day season opener against the New York
Knicks
because of the heel injury. Celtics forward
Sasha Pavlovic
will get the start.
Original post:
Maybe Paul Pierce, who has missed Celtics workouts because of a bruised heel, is just being a good teammate. Maybe he's just doing it for moral support. But given his history of saying he's out and then suddenly appearing on the floor, this news has to give the Knicks and all Celtics fans pause.
The Celtics'
twitter account posted Saturday
that Pierce will join the team in New York for its opener Sunday against the Knicks. Doc Rivers had said Pierce was listed as "doubtful" for the game earlier this week.
Pierce's absence would be devastating for the Celtics who are thin at small forward anyway, particularly after Jeff Green's heart condition was revealed to force him into missing the season.
Carmelo Anthony
has to be not only accounted for defensively, but matched in terms of scoring output, since the odds of shutting down Anthony are slim. The Celtics will miss Pierce on multiple levels if out, however.
The Celtics have been known in the past to say a player is out before they decide to take the floor. But the Celtics might choose to be cautious considering the strain the upcoming shortened season may have on Pierce and the other starters. The objective is to make the playoffs. The big picture has to come first for a team this thin and with this much age on its stars.