By Matt Moore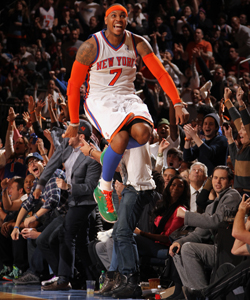 Theory:
The
Knicks
are still learning defense but they have a path to it.
Proof:
For a quarter it certainly looked like the Knicks were the same team they always have been under Mike D'Antoni. But excepting the third quarter 35-17 meltdown by the New York Knicks, the home team put in the effort and technique on the defensive end, and that's what led to their two-point win over the same team who swept them in last year's playoffs, the Boston
Celtics
. Well, that and
Carmelo Anthony
.
But outside of that horrific run to start the second half, the Knicks showed what you want to see if you're a New York fan. They were active defensively, especially when
Tyson Chandler
was in the game. They repeatedly attacked the Celtics at the rim (11 blocked shots). They held a huge advanteage on the offensive glass until the third quarter which accounts for a signifianct portion of Boston's advantage on the glass.
There was a different feel for the Knicks, who wound up winning the game by defending a
Kevin Garnett
fadeaway jumper well enough. The Knicks also flashed a new attitude, repeatedly standing up to Boston's bullying approach, concluding with
Bill Walker
getting in Garnett's grill
after his miss, then taking a shot to the throat from Garnett. This is an ugly, tense, rivalry that gets nastier with every game.
And for once, it looks like the Knicks are ready to bow up to the bullies. Throw in the best scoring frontcourt in the league and the Knicks have their season off to the start they wanted. Even despite that third quarter.