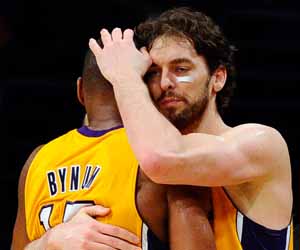 Posted by Royce Young
There's a thinking -- a smart kind of it -- that says that the
Lakers
traded
Lamar Odom
for a bigger reason. The idea is that no way the Lakers gave up one of their best players just to cut down on their luxury tax payment and get a trade exception in return. It was all to clear room and money for
Dwight Howard
. That's how it makes sense to give away the Sixth Man of the Year for nothing.
Right? I mean,
right?
But Jim Buss, the guy running the show in Los Angeles right now, says the trade you're thinking about --
Andrew Bynum
and
Pau Gasol
for Dwight Howard -- isn't happening.
Via the L.A. Times
:
"Where does this stuff come from?" Buss said. "You'd have to be kind of silly to give up two All-Stars like that for Howard. Zero truth to it. We have never been asked for Andrew and Pau and we've never offered them. I think they know we'd either say no or they would sound crazy for asking ... I personally believe now that we have the team that we will be playing with all season long."
Here's the proof: The Lakers nearly beat the
Bulls
and MVP
Derrick Rose
to open the season without Bynum and with Kobe playing with a busted wrist. But they didn't. They fell to one of the elite teams. Does that happen with Dwight Howard patrolling the paint?
Buss says that you'd be silly to give up two All-Stars like Bynum and Gasol for Howard. I think most the public would feel you'd have to be silly to NOT make that deal if it were available. Dwight Howard, who is just 26, to come to Los Angeles to play center with
Kobe Bryant
? Doesn't that sound ideal? Yeah, you lose your starting power forward and replacing Gasol would not be easy at all, but to get the best big man in the game, isn't that worth it?
This Laker team can compete in the West. Kobe, Gasol, Bynum -- it's a strong core. And you can be sure general manager Mitch Kupchak is shopping that trade exception and a few other things as you read this. The Lakers want to get better. They know they're not quite good enough yet, despite Kobe saying so. They'll be a solid Western team, but this franchise is only in the market of winning championships and Buss and company have to ask: Can this roster do that?
Via PBT