Posted by
Ben Golliver
.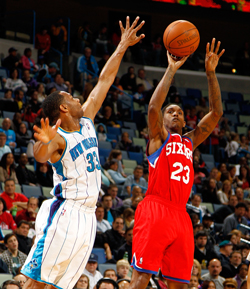 Philadelphia
76ers
reserve guard
Lou Williams
has crafted a reputation for himself as a gunslinger. On Monday night, for example, Williams hit for 25 points, including three impressive 3-pointers, while taking 17 shots and dishing two assists in a loss to the Portland
Trail Blazers
.
This week, though, Williams found himself on the other end of a real barrel.
On Saturday, Williams posted a cryptic message on Twitter. "Almost got robbed today," Williams
wrote
. "But homie said he recognized me and the good I've done for his hood so that made him change his mind. Wow."
On Monday, Williams explained the situation in
greater detail to the Philadelphia Daily News
, saying that he was confronted by a man who tapped on his car's window with a gun.
"A guy tried to rob me but decided not to because of whatever I do in the community," said Williams. "He's a Lou Williams fan, so he didn't rob me."

"There's crime everywhere," said Williams. "I was debating whether to pull off to help the guy. The gun was already out. He did all the talking, and we came up with a solution before i could really say much. I treated him to McDonald's."
Williams, 25, is in his seventh year with the 76ers. Williams runs the
Louis Williams Foundation
and threw a charity game during the lockout. The foundation runs an annual basketball clinic, supports an AAU team and sponsors a father and son field day.
All's well that ends well, and Williams is amazingly nonchalant about what was surely a terrifying situation. The story serves as a reminder that NBA players are both targets of violence and community agents of change every time they step in public. That's a tough balancing act that faces every professional athlete. In the most precarious of situations, Williams walked the tightrope perfectly.
Hat tip: Ball Don't Lie