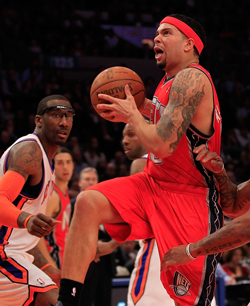 Posted by Royce Young
This season isn't really about winning for the
Nets
. Because everyone knows that isn't happening. It's a lame duck season, at least until the trade deadline when New Jersey can potentially make a run at some pieces.
This season is about impressing and convincing
Deron Williams
that the franchise is worth staying with. He already passed on signing an extension but said that it's
a "90 percent chance" he re-signs with the Nets
. However, blowouts like the one New Jersey sat through against Atlanta Tuesday night are a very big part of that remaining 10 percent.
So it comes down to the Nets getting Williams some help. He knows it, general manager Billy King knows it and so does everyone on the roster.
Via the New York Times
, Williams said exactly that:
"We need some more pieces," he said. "There's no secret about that. There's not many starters on our team right now. We have a lot of great role players, a lot of guys who know their job, but in this league you need some top-tier guys so you can get the job done."
You might wonder if some of Williams' current teammates would feel slighted at their star making that kind of comment. He basically said, "My teammates kind of stink right now, so I need better players." But I don't think anyone on that team is going to disagree.
Kris Humphries
is a role guy. Same with
Damion James
. Same with rookie
MarShon Brooks
. Same with
Anthony Morrow
,
Johan Petro
,
DeShawn Stevenson
, some guy named
Dennis Horner
and
Sundiata Gaines
. The roster is terrible. Without
Brook Lopez
, it's hard ot imagine that team winning more than 10 games at this point. It really is.
We can all look up and down that New Jersey roster and see it for what it is. So can Williams. He's too good for this mess and unless the team can really make him buy into this whole "Brooklyn is the future" thing, then the Nets will have made a major investment for nothing.
Williams is too good for this. He's too good for this lame duck season of maybe getting a star and maybe not. The Nets don't really have any piece outside of Brook Lopez all that enticing because they gave it all away to get Williams. This team isn't going to win anything, not as is. Williams knows it and it's just a question of how long he'll take it.