Posted by
Ben Golliver
.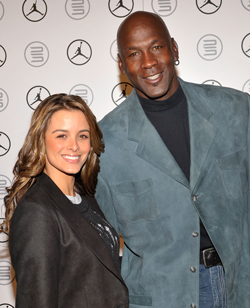 Get ready to enjoy a hard-line prenuptial agreement negotiation.
NBA legend and Charlotte
Bobcats
owner Michael Jordan reportedly proposed to his longtime girlfriend, Cuban-born model Yvette Prieto.
Charlotte television station
WCNC reports the details
.
Charlotte Bobcats majority owner and NBA legend Michael Jordan got engaged over the Christmas holiday, a Jordan spokeswoman first confirmed to WCNC Thursday afternoon. Several celebrity gossip websites reported MJ proposed to longtime girlfriend Yvette Prieto recently.

Jordan was spotted courtside at the Bobcats game against the Bucks on Monday with friend and New York Yankees baseball star Derek Jeter. One website is reporting the couple is celebrating on a private yacht overseas.
Jordan is 48-years-old. Prieto is 32. The couple has reportedly been dating since 2008 and
bought a house in Miami in 2009
.
Jordan
divorced wife
, Juanita, in 2006 after 17 years of marriage. The Jordans have three children: Jeffrey, Marcus and Jasmine. Jeffrey, a senior, and Marcus, a junior, currently play basketball for the University of Central Florida.
Hat tip: SlamOnline.com
.