Posted by
Ben Golliver
.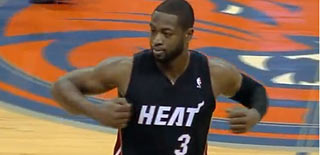 Miami
Heat
All-Star guard
Dwyane Wade
hit a game-winner against the
Bobcats
on Wednesday night, and he wasted no time sending a message to Charlotte's most prominent professional athlete, Panthers rookie quarterback Cam Newton.
After
banking in a leaner in the closing seconds
to give Miami its 96-95 winning margin, Wade turned to Newton, who was seated courtside, and emulated the quarterback's patented "Superman" celebration. Wade and All-Star forward
LeBron James
both mimicked ripping open their suits to reveal the Superman outfit, just as Newton does when celebrating touchdowns, while staring right at the 2011 NFL Draft's No. 1 pick.
The Charlotte Observer reports
that Wade says he was not mocking Newton but was instead simply tipping his cap to the Heisman Trophy-winning quarterback out of Auburn.
"That was a show of respect to him," Wade said. "Not showing nobody up."

"First of all, the guy is huge," Wade said of Newton. "... I've seen him play a lot. He's entertaining. He had one of the best rookie years of any player to ever play the game."
This seems plausible. Wade and James are both noted NFL fans. Wade, a Chicago native, roots for the Bears; James cheers for the Dallas Cowboys. Star athletes across sports are part of an elite fraternity and this can certainly be read as an homage to Newton's greatness.
But the play, the celebration and, really, the start to Miami's season combine to send a greater message. Not just to Newton but to all basketball observers. These guys look eager to create their own lasting, memorable, trend-setting greatness this year.
Hat tip: HoopsHype.com
Image via YouTube
.