Posted by
Ben Golliver
.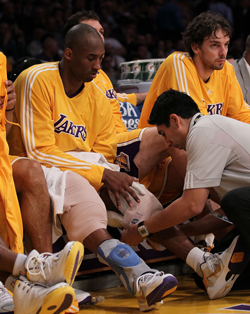 If walls could talk, imagine the stories they would tell.
Los Angeles
Lakers
All-Star guard
Kobe Bryant
and New York Yankees All-Star third baseman Alex Rodriguez could surely spin yarns for hours, swapping stories of leading marquee franchises to world championships and dominating headlines -- and the tabloids -- for more than a decade while reaching the pinnacle of fame.
So it shouldn't be all that surprising that Rodriguez, 36, turned to Bryant, 33, for advice in pursuing a new age knee treatment.
The New York Times reports
that Bryant said he was happy to tip off Rodriguez to the German doctor who performed the procedure on his knee during the lockout.
"I gave him the phone number," Bryant, the Los Angeles Lakers star, said with a smile Thursday night.

Bryant gave his endorsement after having the treatment — known as Orthokine, which is similar to platelet-rich plasma treatment — on his troublesome right knee. He said his knee was now "95 percent" and "as close to 100 percent as it's going to get."

Rodriguez had the procedure on his right knee and left shoulder, but only after consulting Bryant, a longtime friend. "He reached out to me," Bryant said. "We have a good relationship."
Was it sound advice?
USA Today reports
the Yankees believe Rodriguez looks good to go after he a subpar 2011 season.
General manager Brian Cashman said Wednesday that Rodriguez is "100 percent," with "no red flags" going into spring training. Rodriguez had surgery on his right knee last July and saw his power drop in the second half and postseason. He played in 99 games and hit 16 homers, struggling to produce at his usual prolific levels.
As for Bryant, he is averaging 27.8 points, 6.0 rebounds and 5.8 assists per game through the first four games of the 2011-2012 season. All of those numbers are up from his 2010-2011 averages.