3-on-2 asks the EOB crew to compare two quick items for debate. This week's topic? First impressions. You can follow EOB on Twitter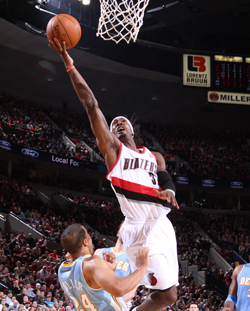 at
@EyeonBasketball
.
1. Which team has been most impressive in the first week of the season and why?
Matt Moore:
We knew how good the
Thunder
were going to be, and it took a huge near-miracle shot from Durant to assure victory on Thursday. We knew the
Heat
could be this good, we're just not certain they'll keep this pace. But how about the Portland
Trail Blazers
? They've been impressive on both sides of the ball and beat a very good Denver team that had been as impressive before Thursday. The Blazers are hitting on all cylinders and Thursday night
Raymond Felton
started to get involved.
Jamal Crawford
has been surprisingly efficient.
LaMarcus Aldridge
is still LMA, and
Gerald Wallace
has been a demon on defense. The Blazers have made a statement early.
Royce Young:
Oklahoma City. The Thunder are the only team with four wins, and they aren't wins over nobody. Orlando, an improved Minnesota squad on the road, at Memphis and a buzzer-beating victory over the defending champion
Mavericks
. And not just that, but those four wins both were sets of back-to-backs.
The Thunder had to overcome a lot of noise after the Memphis game to remain focused on their task. Outside distractions like supposed altercations and supposed feuds can be difficult to move past, but the Thunder have handled their business in the first week. They've put away four wins in five days. And against some pretty good teams. That's impressive.
Ben Golliver:
Miami Heat. The Big 3 and company have dumptrucked Dallas, blown out Boston and come back against Charlotte after appearing a bit bored during the first half. In each game, the Heat had flashes of superhuman play that can't be match by anyone in the NBA, Oklahoma City included.
LeBron James
is the key: his improved mid-range game, attack mentality and restraint from hoisting long balls takes Miami a giant leap towards becoming the team everyone has wanted them to be since the Summer of 2010. A self-assured
Chris Bosh
helps too.
2. Which team has been most disappointing in the first week of the season and why?
MM:
How about the
Suns
? The Suns weren't going to be good, but they weren't supposed to be this bad.
Steve Nash
looks trapped on an island of misfit toys and this is not how his career should end.
Marcin Gortat
is fine, good even, but the rest of the team can't hit a shot and still can't defend. It's looking very bad early for the Suns.
RY:
Dallas. The Mavericks are going to be fine. I don't know if they're going to be fine in the sense they'll compete in the playoffs for a repeat, but they're going to be fine in terms of getting back to the playoffs. Thursday's game in Oklahoma City showed that those wheels are turning again finally after a pretty major champagne hangover.
But still, an 0-3 start with two blowouts is not how you want to see a defending champ come out of the gate. There was a real complacent look to the Mavs early on. They were missing a bit of that drive. Totally understandable, but at some point you've got to snap out of it.
BG:
Sacramento
Kings
. No one expected the Kings to be world-beaters this year and their season opening win was about as exciting as life gets for the Cowbellers. The disappointment is more about
Tyreke Evans
. What is going on here? Evans has barely produced in the boxscore aside from his scoring, which is way down from his career averages through three games. A 4-point, 5-turnover effort against the Portland Trail Blazers was particularly bewildering. Is he out of shape? Checked out? Out of sync? Struggling to deal with new teammates? Simply off to a slow start? Evans seemed like a prime candidate to bounce back from an injury-plagued sophomore season and get back to his sterling Rookie of the Year performance in 2009-2010. Instead, the nosedive continues.