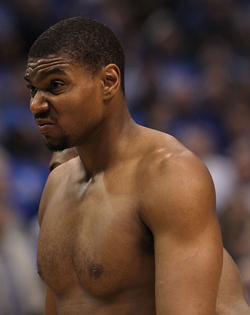 By Matt Moore
This is getting ridicuous.
TMZ reports
that
Andrew Bynum
was pulled over in early December for "crossing a divider and driving on the wrong side of the road" while trying to pass a car.
Oh, good grief.
This happened, in TMZ's words, "JUST DAYS BEFORE" Bynum
was pulled over and ticketed
for having illegally tinted tail lights and no license plate... wait for it, and then after that pulled over going over 80 MPH in his Porsche.
This is after double-parking
in a handicapped spot last July, and Bynum was ticketed for going 110 MPH in November of 2010.
So to review.
Two speeding tickets.
Parked in a handicapped spot.
Illegally tinted tail lights.
No license plate.
Drove on the wrong side of the road.
Look, if you want to say this has no impact on him as a basketball player, nor on his maturity as a teammate, that's fine. Maybe it doesn't. It certainly won't affect his play when he returns to the lineup Saturday against the
Nuggets
. But it's not exactly comforting to see Bynum repeatedly making the same mistakes. He's not getting into fights or criminal trouble. He's just committed a high number of unnecessarily violent fouls an has problems with driving regulations.
But seriously, will the
Lakers
, Kobe, Mike Brown, someone get Bynum a driver? This is just absurd at this point.
No wonder
Kobe Bryant
takes a helicopter to games.