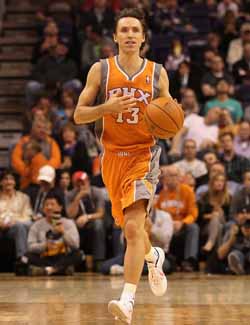 By Matt Moore
Steve Nash
is nursing a bruised rib he sustained against the New Orleans
Hornets
, which has affected his mobility and shot-making, according to the
Arizona Republic.


Nash injured the rib in a collision with point guard
Greivis Vasquez
last week, and it's impacted him in just about every phase of the game. Nash is playing through it, but admits:
"It's like I'm holding my breath a lot," Nash said. "I'm tired a lot. I'm bracing. It's not fun.

"It's definitely affected my shot and mobility."
via Suns' Steve Nash nursing a bruised rib.

Shot-makng in particular has suffered, not just for Nash, but the entire Suns team, the Republic notes, as the Suns are shooting just 40.7 percent from the field. For an offense-mostly team, that's just not going to cut it.
The problems extend far from there, though.
Marcin Gortat
has been fine, but will never be a focal point of an offense.
Grant Hill
has too many miles on him to carry the load, and no other Sun has or can step up. It's really all on Nash, and the burden is literally too much for him.
The Suns are in freefall right now, and Nash can't grab on to anything to pull them back up because he has one hand on an injured rib.