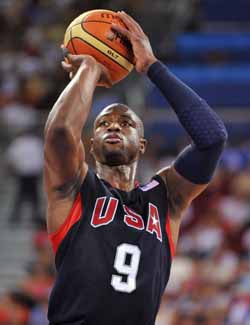 By Matt Moore
Dwyane Wade
has told FoxSportsFlorida.com that 2012 will be his last appearance for Team USA.
"This is my last run," Wade, 29, said in an interview with FOX Sports Florida. "No chance (Wade will return for another Olympics). No chance at all. Not a chance."
via
2012 to be Dwyane Wade's last Olympics
.
Wade cites a desire to let other young players have their chance at a medal during their careers as his primary reason. Wade won a bronze medal in 2004 and a gold medal in 2008's Beijing Olympics alongside now-fellow
Heat
members
LeBron James
and
Chris Bosh
. It was their insistence, along with that of
Chris Paul
and
Carmelo Anthony
, notoriously close friends of Wade and James, that pushed Wade to come back for another season.
The lockout-affected season means that the NBA Finals will end as late as June 26th, and the Olympics begin July 27th, with Team USA training camp starting a few weeks ealier. Should the Heat's season go according to their plans, or at least as well as last year, Wade wouldn't have much time to rest his body, which is known to have injury issues. But Wade says the "unity' is what makes the experience special and will bring him back.
Team USA should be just as stacked this time around. With the Miami Big 3, Anthony, Paul, and
Kobe Bryant
expected to return, along with
Kevin Durant
,
Dwight Howard
and
Derrick Rose
, that's an absurd amount of talent right there. Competition could be as stiff this time around as it was in 2008, but expect
Blake Griffin
to have a good shot at making the team. Factoring in the kind of role players that usually make the team to give specific abilities (Tyson Chander's defense for example), and the 18-20 player list expected to be announced in January according to Jerry Colangelo, head of Team USA, (via FoxSportsFlorida.com) could make for some serious ego management in the roster decisions.
But having that much talent is never a problem, and Wade will be part of that pleasant conundrum.