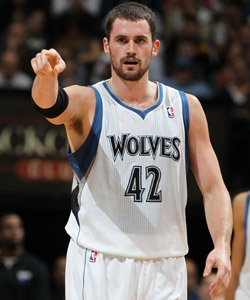 By Matt Moore
Take this one with a grain of salt, but the
New York Post's Peter Vescey is reporting
that
Kevin Love
has not received an extension offer from the Minnesota
Timberwolves
, and should he not receive one in the next 12 days, prior to January 15th, the All-Star rebound machine will not be signing one, and instead be heavily examining signing his qualifying offer this summer to make him a free agent in 2013.
The Timberwolves and Love have always had a contentious relationship. General Manager David Kahn was very lukewarm on the UCLA forward even when he flashed considerable abilities at both ends of the floor his rookie season. He struggled to get minutes under Kurt Rambis before finally bucking off the chains when he simply became too good to keep down. But Kahn has always maintained that Love is a part of the Timberwolves' future and he's not going anywhere. Why are we skeptical of this?
Because it's incomprehensible.
The Timberwolves-are-a-joke meme is almost dead. Drafting
Ricky Rubio
looks genius, regardless of the
Jonny Flynn
pick. He's honestly miles ahead of the pack for rookie of the year after the first week and he's not even starting.
Derrick Williams
looks good.
Darko Milicic
is serviceable. This team has been assembled as decently as it can be, considering the near-accidental way it has. Rick Adelman was the best hire they could have made and it's already paid off. Love is an All-Star. He's always said he just wants to win. Rookies
never
get away from their teams on the first contract if they have any value. The guaranteed money and extra year is just too big.
And yet.
So we'll wait, and see just how insane this Timberwolves group is. But if history, common sense, and recent trends are any factor, even if you believe the Timberwolves are still a joke, not even they could make this punchline into reality.