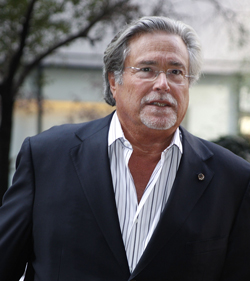 Posted by Royce Young
Micky Arison had a pretty good year.
LeBron James
and
Chris Bosh
came to South Beach, the
Heat
made it to The Finals and his franchise is set up to compete for championships for at least the next four or five years. He's got maybe the most visible, hottest franchise in the league and the Heat are making some money.
Except it wasn't really a great year for Arison, in terms of money.
According to Forbes
, Arison lost an estimated $1.3 billion (with a "b") last year. Arison is the majority owner of Carnival Cruise Lines, and his share price decreased 28 percent because of the poor U.S. economy. Just with the cruise business alone, Arison lost the money and was named one of the magazine's biggest losers for 2011.
Arison was one of the five owners to vote against the league's new collective bargaining agreement,
saying he did it in "protest" of the new deal
. He was also fined during the lockout $500,000 because he tweeted to an upset fan that they were "barking at the wrong owner."
Arison wasn't one of the so-called "hardliners" that were pushing for a hard cap and tougher system, but you can see why some of these owners wanted to guarantee themselves profits with their franchies. Due to the sagging economy, their primary businesses have taken a hit and now they're looking for their basketball organization to make a little.
Arison recently was ranked No. 75 by Forbes in its top 400 richest Americans, but with a $1.3 billion hit to his wallet, you've got to think that might change a bit.
Via I Am A GM