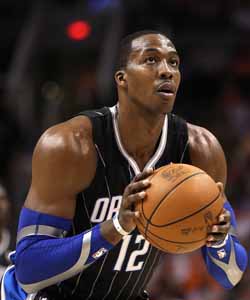 Posted by Royce Young
The clock is ticking on
Dwight Howard
.
The March 15 trade deadline is coming and the
Magic
don't yet appear ready to make a decision on their superstar center. Keep him and you run the risk of watching him walk away for nothing. Trade him and you give up on any chance you had of ever keeping him.
But the Magic kind of are handcuffed. Howard has four teams he's interested in signing an extension with: the
Nets
,
Lakers
,
Mavericks
and Magic. Which means general manager Otis Smith is limited to negotiating with three teams, two of which don't exactly have a plethora of enticing trade assets.
You might think that rules out 26 other teams from competing for Howard at the deadline, but one team, the Golden State
Warriors
, are willing to consider renting Howard.
Via Yahoo! Sports
:
Golden State management is willing to take Howard as a one-season "rental," with the hope of selling him on signing a long-term deal before he enters free agency this summer. Like most teams, Golden State has inquired with Orlando Magic general manager Otis Smith, but the Magic have yet to commit to aggressively pursuing a trade of Howard.
The Warriors also pursued
Chris Paul
, but had the same issues of not being able to be certain he'd commit long-term. But they're willing to risk it with Howard. They have quality young assets in
Stephen Curry
and
Monta Ellis
that they can dangle, plus would probably be willing and able to absorb
Hedo Turkoglu
's remaining $34 million contract.
The Warriors thinking is that if they could just get Howard into the Bay Area with marketing and money opportunities aplenty, that they would be able to convince him to stay long-term. Issue is with Howard, he wants a situation he can win and probably play with a fellow star. And is Golden State that type of place?
But owners Joe Lacob and Peter Guber are determined to alter the culture and perception of the Warriors and if they have to take a chance on giving up a lot to get Howard for three months, so be it. It's an honorable approach by owners committed to their passionate, rabid fanbase. Hard not to appreciate that.
The Warriors probably could put together the best package outside of the Lakers offering
Andrew Bynum
. Curry or Ellis are terrific young talents and something the Magic would be happy to get back. The big question is the status of Curry's surgically repaired ankle though, which could hold things up.
As March 15 approaches, the more teams are going to get into the mix. The Magic haven't even decided on trading Howard yet, but if they do, the Warriors will be waiting for a phone call.