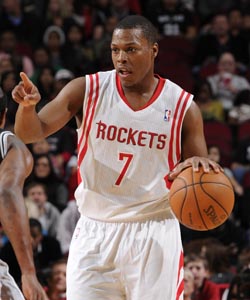 By Matt Moore
Kyle Lowry
has been charged with misdemeanor assault of a female referee stemmig from a September charity game in Las Vegas.
MyFoxHouston.com reports
:
The female victim, Infini Robinson, was one of the referees in the game.

The declaration of warrant/summons said, "At the end of the game, Lowry approached the victim and threw a basketball at her striking her in her torso. The victim picked up the basketball and tossed it back at Lowry. Lowry became upset and stated, 'B****, meet me outside. I will kick you're a**'."

The warrant goes on to allege that after Lowry walked away, Robinson went to the designated area for officials to change shoes and clothing, and she was hit with a basketball at a high rate of speed.

Also according to the warrant, Charlotte Bobcats forward Corey Maggette apologized to Robinson on behalf of Lowry and that Lowry also approached Robinson and said, "I'm sorry. I truly apologize for what I did. I let my emotions get the best of me."
If convicted, Lowry faces six months in jail. Even in the course of a basketball game, the prosecutor's office in Vegas told the station that Robinson is considered a "protected person" in the course of the game.
Another referee verified Robinson's claim and stated Lowry was also abusive to him.
Lowry is enjoying the prime of his career in Houston who has struggled out of the gate this season.
Rockets
' GM Daryl Morey issued a statement to the station that the organization was aware of the summons issued and that they were monitoring the situation. Morey said the Rockets would not comment further.
This summer, several players had issues during the exhibitions to fill the time during the lockout.
Michael Beasley
shoved a fan
at an event in New York and
Matt Barnes
punched an opponent
. The charges against Lowry are more serious due to their nature.