Posted by Royce Young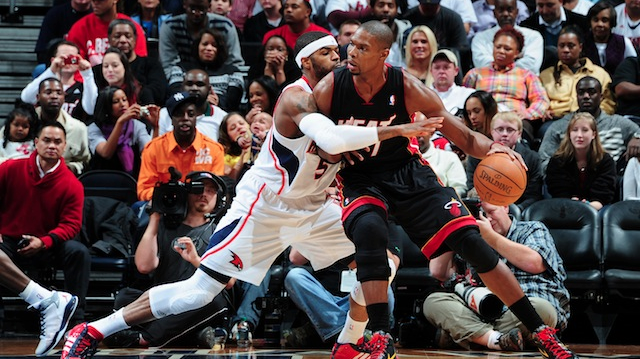 Charles Barkley

Charles Barkley absolutely killed it on the
Heat
-Hawks broadcast.
From ripping on Weight Watchers and the game while being off camera
to openly ripping the game on air, Barkley was his usual candid self. That's what makes Barkley so good. You can't really catch him in a "Gotcha!" off camera embarrassing moment, because he'll say the same crap on air. You might not agree at all with what he's saying but you never have to wonder if he means it or is saying what he's really thinking. When he was openly upset at this game going into overtime, it was sealed: Chuck gets the gold star for the night.

While pretty much everyone was dying for the
Hawks
-Heat game to end (most notably Sir Charles), one person wanted it to go on forever: Chris Bosh. It was his time to shine. He was the star of a team again, the focus offensively and the guy to carry his team. He also might have had 'Nam-like flashbacks to his time in Toronto trying to carry a relatively talentless team to a win. Bosh had 33 points and 14 rebounds, carrying Miami to an unexpected win in Atlanta, while also drilling a game-tying 3 at the end of regulation to send the game spiraling into a couple overtimes.

It's time to re-evaluate the Western Conference. The Blazers are the real deal. It's true. With a 5-1 start and signature back-to-back wins over the
Thunder
and
Lakers
, the Blazers are playing faster and player tougher than ever. And a lot of it is behind the play of guys like Wallace who are completely tearing things up. His defense down the stretch on
Kobe Bryant
was downright outstanding and he's basically become a one man wrecking crew for Portland as he patrols the glass, the paint and adds something in every area. Wallace defines the Blazers right now, who are the best team in the West.
The Heatles' backup singers

Mario Chamlers: 29 points, eight assists, seven rebounds.
Udonis Haslem
: 14 points, 11 rebounds.
Terrel Harris
(who?): nine points, 14 rebounds. Without
Dwyane Wade
or
LeBron James
, it didn't seem like the Heat had any prayer of hanging with the Hawks, but the so-called nobodies on the Heat weren't just going to hand it to them. They played hard and eventually outlasted Atlanta in triple-overtime.
Keith Smart's Kings

It's always a great thing when a new coach gets a win in his first game. It's even better when it's behind a massive comeback in the second half. The Kings came back from 21 down and even 14 in the fourth quarter. It's clearly a terrific win for Sacramento and Keith Smart who looked to have the full attention of his young team as they battled and played hard throughout, but that doesn't excuse a miserable 12-point second quarter and the fact they looked terrible for a good portion of the game.
San Antonio Spurs

The Spurs dismantled the defending champs and did it without
Manu Ginobili
. But they also kind of played terrible. The Mavs were just way more terrible. San Antonio shot just 39.5 percent from the floor, but of its 34 baskets, 16 came from 3-point range. Nobody really stood out for the Spurs, but they had five guys in double-figures. They didn't win pretty, but they whipped the Mavs despite playing kind of bad.
Triple-overtime

The game in Atlanta kind of turned into one of those weird good-but-bad games by default. Without LeBron or Wade, it wasn't a must-watch contest with the Hawks, but triple-overtime is triple-overtime. Except for one problem: Because of it, the game of the night, Blazers-Lakers, had the
entire
first half wiped out. Nobody saw any of it. And it was evidently a pretty entertaining half of basketball too but instead we were watching the Hawks go 0-9 in the third overtime and the Heat's scrubs lead Miami to a weird victory.

I wish I could figure the Mavs out. This is the third "F" I've given them already. Another 20-point loss for the defending champs as the Spurs drilled them 93-71. Dallas shot 35.1 percent from the floor, went 1-19 from 3, had just one player in double-figures, had 29 points at halftime and only 42 points after three quarters. They looked like a team that had quit. If you didn't know any better, you would've thought Paul Westphal was coaching them.
Atlanta Hawks

What the heck? They beat a full-strength Heat the other day in Miami and then turn around and lose on national TV to a Miami team missing Wade and LeBron. Really, even if they had outlasted Miami and won in triple-overtime, they'd be getting an F. The lone bright spot of the game was some guy named
Ivan Johnson
who showed up big. But that's what it came to for Atlanta. Not
Joe Johnson
, but IVAN Johnson trying to carry them to a win. Joe Johnson,
Jeff Teague
,
Josh Smith
and
Marvin Williams
combined to go 16-59 from the field. What a frustrating night for the Hawks and one that kind of sums them up perfectly.