Posted by
Ben Golliver
.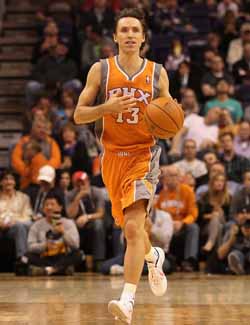 Man, it sure is a tragedy watching two-time NBA MVP
Steve Nash
wasting away on the also-ran Phoenix
Suns
. That has been the international consensus from everyone for the last year or so -- everyone except Nash and the Suns, apparently.
ESPN.com reports
that the 37-year-old Nash, who has had his name in trade rumors for years, refuses to request a trade from the Suns.
"One, it's not my style. Maybe I'm old school, but I feel like that's not my place to give up on my team, give up on my teammates. I signed a contract and made a commitment.

"And two, I don't feel it's like choosing a restaurant. It's got to be a situation that works for two teams. And I don't know how simple that is. But before we even get to that part of it, I just feel that I owe it to my teammates to stay committed to them. I feel that I owe it to the fans and the organization to fight."

Nash is adamant: He will not go to his bosses and ask to be traded. The Suns likewise haven't budged: They insist they will not trade Nash unless he comes to them and says he can't bear another day detached from relevance.
The Suns are just 2-4 on the young season and are almost certainly headed for the NBA Draft Lottery. Nash's numbers through six games -- 11.5 points, 8.7 assists -- are way down, although he's been dealing with a bruised rib. It's been more than a decade since his numbers have been at those levels and he's currently shooting a career-low 42.2 percent from the field.

Certainly, there's the school of thought that says it's in the best interests of basketball for Nash to hook on to a contending team, a veteran, savvy, playoff-tested point guard who can potentially push a team over the top before he hits free agency next summer.

On the flipside, there's a noble beauty that comes with playing the tragic hero, and the desire to want out of a situation can only come within. One of the league's most respected and trusted floor generals, Nash is calling these shots too.

It's also possible that Nash has now passed the "checkout" point of his Suns tenure. At some point over the last few years, as owner Robert Sarver turned over the roster time and again and allowed All-Star forward Amar'e Stoudemire to leave for New York, there must have been a moment when Nash seriously contemplated leaving the desert. That flight reflex would be natural and human. At his age and with the end of his contract approaching, though, it doesn't take a psychologist (amateur or otherwise) to realize that the pressure to stick it out and leave Phoenix and its fanbase with his head held high, knowing he gave them every possible chance to turn his talent into wins, has increased dramatically.

The only problem with that: his clock is still ticking and he's passed the 1,000 games mark. If there's going to be a meaningful post-Suns chapter in Nash's NBA career, it needs to begin sooner rather than later. Here's hoping that team and player -- who are both reportedly too steadfast and respectful to make the first move -- realize what's at stake over the next two months and get a deal done prior to the deadline.