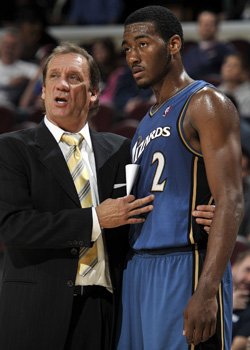 Posted by Royce Young
Get off to an 0-8 start and a coach's seat will start to warm a bit. But do it in a manner such as the Washington
Wizards
have and that seat will be on top of a bunsen burner.
The Wizards aren't just winless, but they've looked
terrible
. Unorganized, uninterested, uncommitted -- a lot of un words. Their young players aren't progressing, the team's chemistry seems a bit toxic and it's hard to see a way out right now other than
John Wall
just becoming an otherwordly LeBron-like talent.
Which would suggest that the Wizards need a fresh look, a new jolt. At least that seems to be the formula in professional sports. Can the coach, bring in a new guy and see if that changes anything. But the Wizards are sticking with Flip Saunders. At least for now.
Via the Washington Post
:
Despite the Wizards being off to a franchise-worst 0-8 start, the organization does not have any intention of firing Coach Flip Saunders at this time, according to two sources with knowledge of the situation.

In more than two seasons with the team, Saunders is just 49-123 and the Wizards have set franchise records for consecutive road losses (25) and consecutive losses overall (16). After the Wizards suffered a humiliating 21-point home loss to Minnesota on Sunday, Saunders was asked if he felt that he was running out of chances to get through to his players.

"No I don't fear that," Saunders said. "I think I know the process that we're going through, and I know it's a painful process."

Saunders is in the third year of a four-year, $18 million contract that he signed in April 2009.
Firing a coach doesn't always fix things, especially when you have a roster as dysfunctional as the Wizards. It's more of a question if Saunders is still getting through to his guys, if they still are listening to him and if the young players are developing correctly under him. If not, then you need a change. But if all of that is happening and the team is just losing, then maybe you have to consider the roster just stinks.