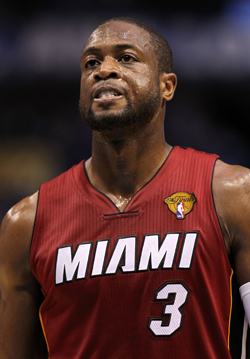 Posted by Royce Young
Right now,
Dwyane Wade
's injury is nothing. It's just a sore foot and the
Heat
are winning just fine without him.
LeBron James
is playing terrific,
Chris Bosh
is filling the gaps and the role players are doing their jobs.
But Wade has now missed three games and is questionable for the Heat's Tuesday game against the
Warriors
. His injury is clearly lingering a bit and Monday after Miami's practice, Wade mentioned a potentially ugly injury situation.
Via the Sun Sentinel
:
"I don't know, man, it's just hurting. It could be three different things. (Plantar fasciitis is) one of them. The bruise is one of 'em. Maybe it's a combination. I just know that it's in the area of the plantar fascia and I know it's bruised as well. Whatever it is, it's just taking its course, taking its time to get healthy."
Any time a player says "it's just hurting," that's not good. Playing in pain isn't something you want to do. Every player has to do it at different times but a healthy Wade is the kind of player Miami wants to win with.
Plantar fasciitis though is the type of nagging injury that can affect an entire season. It's a foot condition that includes constant pain with pressure. It's the type of injury you get from spending too much time hammering on your feet. And the way you rehab it is simply to rest. For a while. Don't rest it long enough and you'll wind right back up where you were.
Without Wade, the Heat have gone 3-0, but obviously that's not a sustainable success model. They need Dwyane Wade. Not necessarily right now, but definitely come May. Right now he's trying to heal and the hope is it's just a bruise. Otherwise, Wade could have a painful season ahead.