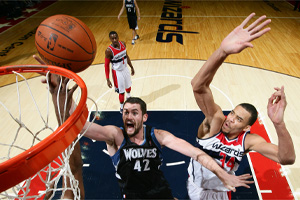 By Matt Moore
There are about ten legitimately great point guards in this league, and a crop of upcoming ones. It's a stacked position. But behind point guards, the most often debated position in terms of relative greatness in the league right now is power forward. The West last year was so stacked
LaMarcus Aldridge
was snubbed from the All-Star game and it was simultaneously an outrage and completely understandable. So anyone claiming they are the best in the league is a bold statement. Coming from
Kevin Love
? That's chipotle-jalapeno-curry bold.
From ESPN Radio 1500 in Minneapolis:
Who's the best '4' in the league: you or Blake Griffin?

I believe I'm the best '4' in the league. I think you have to believe that you're the best. I think Muhammad Ali even said, 'I was the greatest before I knew I was.' I think everybody needs to have that mindset. That's part of winning the mind game from the very start. You have to believe it. You have to hold yourself accountable.
via
Wolfson: Wolves will offer Kevin Love maximum, but will he take it? | 1500 ESPN Twin Cities – Minnesota Sports News & Opinion (Twins, Vikings, Wolves, Wild, Gophers)
.
Now, Kevin Love is the best rebounding power forward. He's the best perimeter shooting power forward. He's probably the most marketable power forward. But the best?
Love is much improved defensively this year under Rick Adelman so far, ranking in the upper half defensively according to Synergy Sports. But both his rotations and man defense suffer from inattention and a lack of physicality. His offensive post work leaves a lot to be desired in temrs of footwork and positioning. This isn't to say that Love's game has to be flawless or that it isn't great on its own, but it's a long way from complete.
Still, Love's right that the approach needs to be him saying he's the best. There's no upside to giving anyone else that title. It may be annoying that overconfidence is so pivotal for pro athletes but it is. For the rest of us, though, we may want to hang on for a bit, no matter how many 30-30 games he drops.