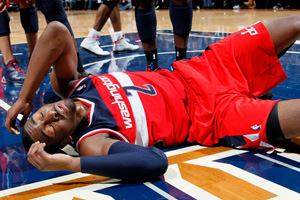 By Matt Moore
Apparently D.C. is treating "Wizards fever" like an actual venereal disease. Because they're staying away in droves. The winless
Wizards
are
listed on StubHub.com for next to nothing
. That's not an exaggeration, either. With the Wizards playing the
Raptors
Tuesday night, not exactly a marquee matchup, starting prices or the upper-upper deck are $1.00 per ticket.
Want a VIP box? $75 dollars! Lower bowl behind the basket? $6 dollars! Get 'em while they're stagnant in sub-zero temperatures.
Meanwhile,
Rashard Lewis
on Monday had to refute
a CSN Washington
report that he skipped Sunday's game
because of an argument with assistant coach Sam Cassell.
But hey, Flip Saunders'
job is safe
, so they've got that going for them. Meanwhile, the
Washington Post
has a quote from an Eastern Conference GM which hits the nail on the head.
An Eastern Conference assistant general manager echoed that the Wizards need to establish a culture of accountability and high character to deliver a successful rebuild. "No team in the league, if the environment was good, would be 0-for-the-season," he said. "Whatever the optimum each guy has, it'll never be realized when it's dysfunctional. The talent on that roster can't win. You can't win with Andray Blatche. I don't care what anybody says. He has talent. He has some talent. But tell me where he's won. . . . John Wall is a young player. Where's the veteran leadership for those guys? Gilbert [Arenas] was the former example. What kind of example was that?"
via
Wizards' woes stem from from lack of talent and losing culture, executives say - The Washington Post
.
And that's why you can get Wizards tickets for the change in your couch.