Posted by
Royce Young
and
Ben Golliver
.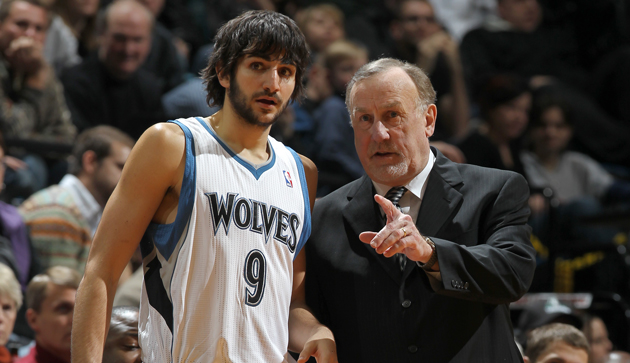 The 2011-2012 NBA season continues to skip along. Here's the fourth weekly installment of CBSSports.com's NBA Power Rankings by Eye On Basketball's Matt Moore.
What did he get right? What did he get wrong? We're here to break it down and take it down.
1. Too High: Milwaukee Bucks at No. 20.
The Bucks are one of those teams that you actually notice when they score. Because it doesn't happen with great regularity. Yet somehow despite a 2-6 record and five straight losses (without
Andrew Bogut
, mind you), the Bucks No. 20? Their schedule isn't overly difficult and their two wins are against the Wolves and
Wizards
. Not a whole lot to convince anyone that team is very good. -- RY
2. Too Low: Houston Rockets at No. 27.
The fourth worst team in the league? Really? Worse than the dysfunctional
Kings
, the raw Cavs and the frustrating
Warriors
? Yeah, they're 2-6 which is tied for last in the West, but they haven't had any easy road thus far. They've played multiple games without
Kyle Lowry
who is off to an All-Star caliber start and they're schedule has been brutal. Of their eight games, they've played seven against teams in the playoffs last season with the eighth being against the
Clippers
. The Rockets might be losing, but they haven't had a fair shake of the schedule quite yet. -- RY
3. Most Overrated: Minnesota Timberwolves at No. 16.
Sure, it's basketball aficionado sacrilege to talk mess about the Minnesota Timberwolves right now, what with their internationally-acclaimed rookie point guard impressing beyond all reasonable expectations and the young core finally starting to develop. There are still baseline standards to fulfill, though, and Minnesota remains in the Northwest Division basement, trailing the fourth place Denver
Nuggets
by 2.5 games already. Their 3-6 record includes losses to the dismal Toronto
Raptors
, Cleveland
Cavaliers
and Milwaukee Bucks. -- BG
4. Most Overlooked: Utah Jazz at No. 18.
Utah deserves to be where Minnesota was ranked, if not a touch higher, after slapping together a 4-game winning streak completely out of nowhere. The Jazz have been a perennial playoff team by exploiting their massive homecourt advantage to full effect, and they still haven't lost at Energy Solutions Arena this year, a promising sign even if they still lack a signature win. This team seemed destined for chaos and/or rebuilding after a 1-3 start; instead, they're back in the playoff picture, at least for now. -- BG
5. Sure Thing: New York Knicks at No. 14.
The Knicks are right where they need to be. They've been frustratingly average. Even in beating Charlotte at home Monday, they flirted with disaster. There isn't a lot from the Knicks yet that show they're a real contender in the East.
Tyson Chandler
is nice, but do they honestly look that improved defensively? They have enough talent to win games and stay in the playoff hunt, but who would you take them to beat in a seven-game playoff series in the East? Would you even take them to beat the Sixers or
Pacers
right now? -- RY
6. Wild Card: Los Angeles Clippers at No. 12.
Every other team in the NBA has played at least eight games. Some have already played 10. The Clippers, meanwhile, have played just six through Monday. How does that make sense? It doesn't, and it also gives us significantly less evidence to determine how legit the Clippers are with their division-leading 4-2 record. They grade out exceedingly well offensively and below-average -- but not terrible -- defensively, so there's a decent chance they can make a push towards perennial top-10 status assuming they can avoid injuries. Then again, their wins have come against Portland, who played incredibly flat, and three teams destined for the lottery. -- BG