Posted by
Ben Golliver
.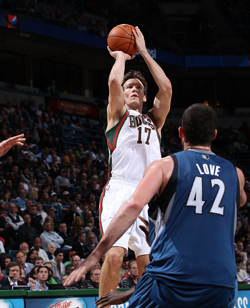 The injuries continue to add up just a few weeks into the NBA season.
The Milwaukee
Bucks
announced on Tuesday that
Mike Dunleavy
, Jr. could miss up to a month with a groin injury that has sidelined him since Dec. 30.
Milwaukee Bucks General Manager John Hammond announced the following medical update on guard Mike Dunleavy (6-9, 230): After consulting with Bucks team physicians, Mike Dunleavy (groin pain) should be participating in full basketball activity in approximately two-to-four weeks. Including tonight's game vs. San Antonio, Dunleavy has missed the last six games due to the condition. In three games this season, Dunleavy has averaged 10.3 points, 4.3 rebounds, 4.0 assists and 1.0 steal in 30.3 minutes per game.
Dunleavy, 31, started Milwaukee's first three games before going down with the injury. In Dunleavy's absence, Milwaukee has started
Carlos Delfino
.
The Bucks added Dunleavy during the preseason free agency period, inking him to a 2-year deal worth a reported $7.5 million. Now in his 10th NBA season, he previously played for the Golden State
Warriors
and Indiana
Pacers
. After playing in all 82 games during the 2007-2008 season, he's struggled to stay on the court, playing just 59 percent of Indiana's games over the last three seasons.
A 2-week absence would cause Dunleavy to miss eight games; a 4-week absence could mean 17 missed games, or roughly one quarter of this year's condensed season. Milwaukee is currently 2-6, a half-game out of the Central Division basement.