Posted by
Ben Golliver
.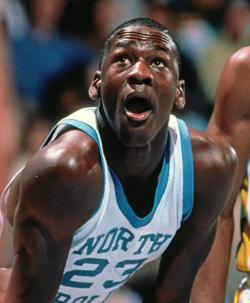 The two biggest pieces of lore in modern basketball history are Wilt Chamberlain's supposed conquest of 10,000 women and Michael Jordan supposedly getting cut from his high school team. It would take a dream team of forensic scientists plus a time machine to prove or disprove Chamberlain's performance, but we know the truth about Jordan's legendary high school struggles.
Jordan did not make the Laney (N.C.) High School varsity team as a sophomore. Instead, he played for the J.V. team that year before ascending to stardom as an upperclassmen.
In
a Sports Illustrated profile
, Clifton (Pop) Herring, Jordan's high school coach, makes it clear that Jordan was "placed" rather than "cut."
To an outsider watching Pop Herring's basketball tryout in November 1978, it would not have been obvious that the gym at Laney High in Wilmington, N.C., held a player destined to become the greatest in the universe. He was still Mike Jordan then, not Michael Jordan, just another sophomore guard among 50 eager boys competing for 15 spots on the varsity and 15 more on the junior varsity. There was no doubt that Mike Jordan could handle the ball, but his shooting was merely good and his defense mediocre. Mike Jordan was seven or eight inches shorter than Michael Jordan would be, only 5'10" at age 15, and at least one assistant coach had never heard of him before that day. If Jordan distinguished himself at all during the tryout, it was through his supreme effort. He was first in line for the conditioning drills, and he ran them as hard as anyone, and when they were over he wanted to run some more.
...


But the Laney Bucs did have one major weakness, and that was size. They didn't have a returning player taller than 6'3".

...


"They criticized me for cutting Michael Jordan," he says. "Now, when, if you ever attempt to play any type of athletics, remember this small new hint of advice. New conversation of advice. If—when I was comin' up playin' ball, when you get cut, you are cut predominantly. Whatever is on each side. Then you do not even play either level, jayvee or varsity. Michael—well, Mike—Jordan was placed on the junior varsity level. Uh-huh? He was placed on the junior varsity level. He wasn't cut away from the game that made him."
It might seem like Herring is parsing words or splitting hairs, but placing Jordan on the J.V. team instead of cutting him outright makes all the difference in the world for his reputation. Given the team's roster needs, Jordan's pre-spurt size and pre-formed skillset, and the vast competition for the spot, placing Jordan on the junior varsity for seasoning makes some sense in context, especially to those in the world of basketball who realize that development does not occur on a straight-line trajectory. Let's face it: Whenever the words "Michael Jordan was cut" come up, the implication is that only a blind fool wouldn't be able to recognize Jordan's talent and eventual greatness. Clarifying to the world that this was a program placement allows Herring the context to affirm his credibility, something that is called into question -- directly or indirectly -- any time there's a reference to Jordan's high school hiccup.
These details were far less important -- completely meaningless, really -- to Jordan. Junior varsity wasn't the highest level so therefore it wasn't good enough. Simple as that. Talent evaluators sized up Jordan and determined he wasn't the pick of the litter and that conclusion wouldn't do. Simple as that. Had Jordan made the top team, he surely would have recalibrated his worldview to adjust the chip on his shoulder. Perhaps he wouldn't have started or he wouldn't have immediately been the go-to scoring option in the clutch. That wouldn't have been good enough for the Jordan we've come to know over the last 30+ years, so the cycle would have continued from there.
This is a rare case where learning the truth behind a legend doesn't undercut its meaning at all. Rather, we get a clarified and more nuanced portrait of Jordan the competitor. In the original version -- where everyone thought Jordan was actually cut from basketball completely -- the Hall of Famer was a hero because he dedicated himself to improving his game so that a coach's decision would never stand between him and basketball. In the more accurate version, Jordan is the protagonist who never settled for anything short of the absolute best, using a roster decision as the fuel to cast himself into a lifelong fantasy battle against a world of perceived doubters who were out to tear him down. The first version lacks the ruthlessness which has come to define Jordan. The second version keeps that take-no-prisoners, forget-no-slights approach front-and-center.