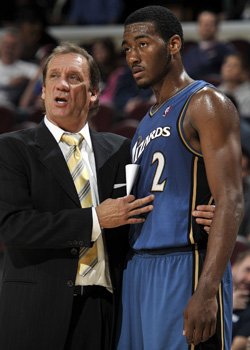 Posted by Royce Young
There was one good thing about the lockout: How many players took to blacktops, high schools gyms and other place to play in pickup exhibition games and pro-am leagues.
Kevin Durant
,
Brandon Jennings
,
James Harden
and
John Wall
were among the group of guys that seemed to play in almost everything.
The idea for playing being the more you play basketball, the better you get. Sure, it was for fans and for fun, but these guys were looking to get better too. For instance, take Durant who has expanded his game so far this season to more creative passing and ball handling. Those are things he worked on during the summer league games.
But could all that pickup have had a
bad
influence? Flip Saunders seems to think it did on John Wall.
Via CSN Washington
:
"I've never been a proponent of all those things," Saunders said after Monday's practice. "I think you pick up too many bad habits and a lot of things you think are going to be very easy [are not]. I don't think I saw a change all summer long."

As for the bad habits, just watch a Wizards game this season for proof. With greater repetition than during his strong rookie season, Wall often speeds past teammates into 1-on-3 situations or zooms into a congested lane with the most creative of intentions. [...]

Wall was not the only Wizard in those wild and woolly games or the only player to recklessly freelance. Yet, as the team's point guard, Wall has more responsibility. As the franchise player, he receives more scrutiny, especially on a winless team.

"Usually what happens is it's on the best player and the coach. That's part of the responsibility that we all have," Saunders said. "The positive thing is that when you're the best player, you're usually the one that can [help most]. You can help change things around as the coach can."
You know what this sounds like to me? It sounds like Saunders is looking for excuses. It looks like he's trying to find an explanation for why his team stinks and why its best player has started slowly when it was supposed to be a leap year for Wall. Instead of maybe just saying it's the roster around him, the culture of the team or the system he plays in, just blame it on Wall playing too much basketball during the summer.
Sure, you
can
develop bad habits in those games. But I tend think NBA players understand that. I think they are fully aware that it's not a good idea to go out and start chucking 30-footers and going for behind-the-back passes every time down. Wall has always had sort of a blacktop-style game and that's just part of who he is. He's got some flash to him. If you try and take that away, you're going to lose the player he could be.
Those "bad habits" aren't pickup problems. They're being-a-21-year-old second-year-point-guard problems. They're being-a-good-player-on-a-bad-team problems.
Playing too much basketball can't be a problem. Look at Harden, who dominated pretty much every summer game he was in and had other NBA guys calling him the best pickup player out there. I think he's benefitted from hooping over the summer. To blame Wall's slow start on that is simply a ridiculous thing to say. There are a lot of reasons for it, but it has nothing to do with practicing too much over the summer.
Via BDL