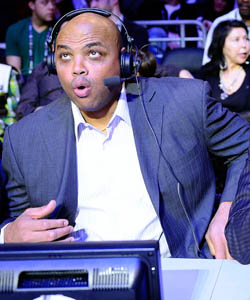 By Matt Moore
Charles Barkley is no stranger to media frenzy. So it's a little baffling why he's surprised at the reaction Tim Tebow has provoked from this country. But there he is, on 97.5 The Fanatic in Philadelphia talking about how everyone needs to seriously stop with the Tebowning:
"The national nightmare continues. Hey listen I like Tim Tebow but there comes a point, he had a great game. He's supposed to have a great game. They want to make it seem like oh the world is aligned correct. I'm like he does play quarterback. He is supposed to play well. (Host: So you've had enough of Tebow?) I think the world has. (Host: There's a lot of Tebow fans out there. I've had enough and I'm not a big Tebow guy and they're just killing me about Tebow.) First of all Mike I don't know anything you said about Tebow but let's just say the jury is still out on Tebow. He seems like a nice kid but these ups and downs are so different. The jury is still out on Tebow. Just because he had a great game and made four or five great throws yesterday doesn't mean he's gonna be a great starting quarterback in the NFL."
via
Sports Radio Interviews » Blog Archive » Charles Barkley on Tim Tebow and the Broncos Advancing in the Playoffs: "The national nightmare continues"
.
For what it's worth, Barkley averaged 15 points and 11 rebounds in his first playoffs with the Sixers in '85, advancing to the Eastern Conference Finals before being eliminated 4-1 by the
Celtics
.
Still, Barkley should be pretty aware that this is how it works. It's not how good you actually are (though 316 yards passing against the Steelers, even a phenomenally banged up Steelers, is pretty impressive), it's how good you're perceived to be by the media and fans. Tebow is a polarizing figure that has managed to win his way into the second round of the playoffs, facing the heavily favored Patriots. Barkley may not like that Tebowmania is happening but there's no way he should be surprised, nor can he deny that there's something to the madness.