Posted by Royce Young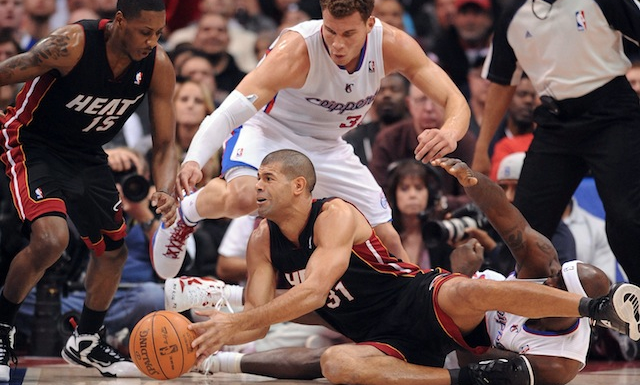 Your nightly report card gives you a big picture look at what happened each night in the NBA. Grades are granted based on team or individual performances, and are graded on a curve for each element. Leave your own grades in the comments.


You have to give credit to the Knicks. They've been up and down so far this season but against division leader Philadelphia, the Knicks played a quality all-around game getting necessary stops, getting big games from
Carmelo Anthony
and
Amar'e Stoudemire
and killing the glass. Everyone was riding high on the 76er bandwagon this week, but the Knicks handled them by getting out to a 28-15 first quarter and never looked back.

The embattled big man had himself a ball game against the
Raptors
. Yeah, it was the Raptors who aren't typically strong inside, but Cousins put up 21 points and 19 boards. That's the type of stuff that makes him worth picking over a coach, no matter what the issues may be. Cousins has serious talent no matter what's going on in his head. If he can ever start channeling it properly, the guy is going to be a beast.

A night after going for 48, Kobe put up his 109th career 40-point game dropping a four-oh on the
Jazz
in a Laker overtime win. He played 43 minutes, took 31 shots (making 14), grabbed eight rebounds and dished out four assists on top of it all. Kobe has been as good as ever to open this season. Whether it's the German knee treatment or freedom from the Triangle, Kobe's off to an MVP-type start.

Playing for MVP
Derrick Rose
, John Lucas stepped up and scored 25 points and dished out eight assists leading the
Bulls
to maybe the ugliest win ever over the
Wizards
, 78-64. But 25-8 is 25-8. Sure, it took him 28 shots, but that has never stopped us from being impressed with Rose. I think the lesson here is that obviously it's just the Chicago system and basically you can insert any player into that point guard spot and he'll produce big numbers. Also, I'm not at all serious about that. But seriously, what the crap John Lucas?

The Clips got their biggest win of the season and while it's a very nice victory, it was U-G-L-Y.
Chris Paul
was terrific,
DeAndre Jordan
wonderful (six blocks), but the Clipper bench provided only eight points and
Blake Griffin
struggled, scoring just two baskets in the second half. It's a great win for the Clippers and something for them to build on, but it wasn't exactly a clean victory.

A big game between two very high profile teams with big stars. It should be a good one, right? But the game was just ugly all over. Missed free throws, bad offense, sloppy play -- it wasn't pretty. It was close though and got entertaining late as Dirk completed a three-point play to put the Mavericks over the top, but you were watching two potentially over-the-hill teams look very much like it for 48 minutes.
Offense

Across the league tonight, only a couple games saw a team score 100 points. There were a bunch of games played in the 80s and a few with totals down in the 70s. The Wizards scored 64 total and the
Hawks
scored only nine in a quarter for crying out loud. It's the way life is in a lockout shortened season I guess, but man, there has been some ugly offense lately.
Crunch-time Heat

On a second consecutive night the Heat essentially choked in crunch-time. They missed 14 free throws (including eight from LeBron, four in the fourth quarter) and went nearly 12 minutes without a basket spanning the fourth quarter and overtime. And the one basket they finally got? It was a 3 from
Mario Chalmers
. We all make a big deal about this fourth quarter stuff with Miami, but it's a thing. You can't ignore it. Going almost a quarter's worth of basketball without a hoop is a problem.
Washington Wizards

Sixty-four points? Really? I mean,
really
? Are they even trying to score? Yeah, it was against the Bulls who are a great defensive team, but geez. Thirty-one percent from the floor, only one quarter over 20 points and only 27 points total in the second half? The Wizards terrible. Just terrible.
Injuries

Al Horford
went down with a shoulder injury that could cost him a month or more. And he's just the latest in a long line of players getting dinged up. Blame it on the condensed schedule with no camp or just coincidence, but it has seemed like the injury bug has been biting quite a bit this season.