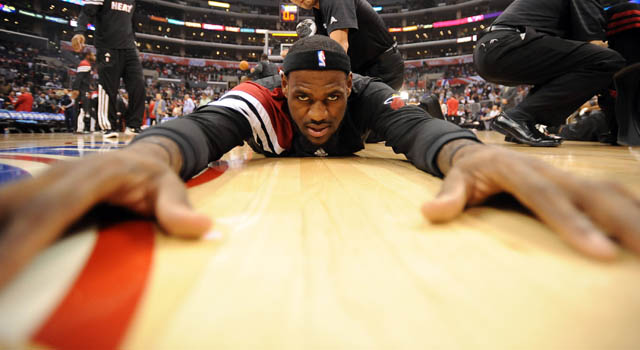 By Matt Moore
Los Angeles 95 Miami 89
Theory: LeBron James cost the Heat a winnable game on the road against a playoff team by missing free throws. Proof:
Eventually you reach a point where these things cross the line of believablility. One missed clutch free throw by an 80 percent free throw shooter, one of the best basketball players on the planet, OK. Sure. Weird, but it happens.
But the sheer volume of missed free throws from LeBron James against the
Clippers
on Wednesday is purely staggering.
And more so, James was clearly, visibly shook by the misses. He didn't settle for long jumpers, though he did brick a face-up J with Billups defending him in the fourth. He did what everyone asks. He posted, he drove, he got to the rim, and he drew the foul.
And he bricked. Over and over and over again.
It was comical. It was absurd. Some people will say they aren't surprised, that James has already shown himself to be that kind of player. But there's a reason so many people react the way they do. There's a reason James is regarded in such lofty compliments. He really is that good... provided it's not a crucial game since the Eastern Conference Finals ended last June.
The Heat missed 14 free throws against the Clippers. Hit half of those misses, they win the game. Any better than that and it's a walk. The game never goes to OT. The Heat absolutely melted down on multiple levels.
Chris Bosh
and
Dwyane Wade
were equally as terrible in the fourth quarter and overtime as James. But it was James who had the opportunity, yet again, to step up and lead, to end it, to be the player that gets it done.
And again, he failed. Shrunk. Choked. Whatever cliche you want to rip out there. He finished 9-17 from the line. Eight missed chances, any pair of which in regulation would have ended it. Torching LeBron for his late game failures has become more boring and drawn out than players complaining about calls (which there was also a lot of in this game, and rightfully so). And yet it's based in reality. No one remembers him crushing the
Celtics
down the stretch in a dominant series. No one remembers him erasing the MVP
Derrick Rose
. And rightfully so. These performances aren't just questionable or soft. They're bad. He's played badly.
And Wednesday night, those failures cost the Heat a game they should have won.
It's not even funny at this point, but that's hard to tell over the sound of the world's laughter.