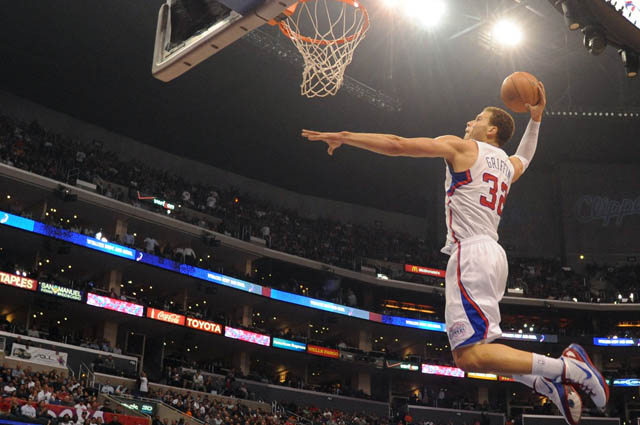 By Matt Moore
Los Angeles 95 Miami 89
Theory: The Clippers needed some help, but found their defensive identity against the Heat to get their biggest win of the season. Proof:
Moving past the prolific failure
of the Miami Heat, particularly at the free throw line, the Clippers did win a fairly significant ball game Wednesday in their own right, an ugly affair against a tough defensive team, and they did it with defense.
For weeks the Clippers have been chided for porous defense. But Wednesday they took the most athletic team and attacked them at the rim. They turned the Heat over, they challenged jumpers, they helped and communicated, and
DeAndre Jordan
blocked everything in sight.
The Heat entered Wednesday night with a 107 offensive efficiency mark (points per 100 possessions). The Clippers held them to just an 89.9 mark. That's worse than the
Wizards
' mark for the season. L.A. brought a lot of help, but it was also lead by the same players who they were criticized for acquiring.
Chauncey Billups
and
Caron Butler
did tandem work on LeBron ames and
Dwyane Wade
, and
Chris Paul
was his usual ball-hawk self.
Then there was DeAndre Jordan.
That's why you overpay for a young center with his abilities. Eleven rebounds, six blocks (!) and a monstrous slam to finish the game and shut the door on the Heat. Jordan was everywhere, swallowing up shots and spitting them back out. Jordan was a monster and a huge reason why the Clippers could help and recover as much as they needed to against the Heat's athleticism.
The Clippers are still a work in progress. But there were enough positive signs to show that this team is not as far off as has been suggested recently. There are still things to improve on, though.
Blake Griffin
is still learning to adapt to the new pressure and physicality defenses are now applying. Griffin finished with 20 and 12, but needed 23 shots to get to those 20 points. He was frustrated by the Heat's combined attacks and shook by their toughness inside on his drives. Too often he settled.
The bench is still very weak, and in need of a consistent scorer outside of
Mo Williams
.
But Chris Paul ties it together.
Maybe the defense won't play like this consistently enough to even warrant home court in the first round. But the pieces are there, and when they come together for the Clippers, with Paul drawing the strings and Jordan putting a big metal box over it, the Clippers have something as special as what they were hyped to be. It was a mentally exhausting, grinding battle Wednesday night, and at the end, the Clippers walked out with the signature win of their season so far.