Posted by Royce Young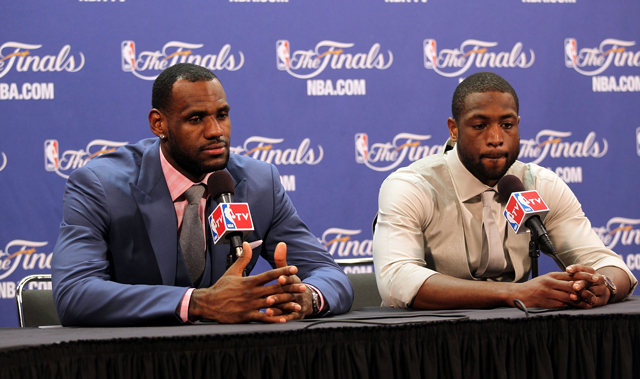 People have made a big stink about the
Heat
for a lot of different reasons, but one thing people really like to hone in on is the so-called "closer" talk. Who takes the last shot in a close game? Who closes out opponents, LeBron or
Dwyane Wade
? The team has played more than 100 games together now and it's become pretty obvious in that time -- it's Wade's time, not LeBron.
Nobody has necessarily declared that, but more just it's been the plan of action in close games. Well, now
Chris Bosh
has actually said what we all already know.
Via GQ
:
GQ: Quick hypothetical, toes aside: Let's say the game was tied. 10 seconds left. You had 30 points, LeBron's got 30, and Wade's got 30. You got the same amount of rebounds, same amount of assists—having the same great game. Who takes the shot at the end to either win or lose the game.
Chris Bosh: [immediately] Dwyane.

GQ: Why?
Chris Bosh: Because of his success in the past, given what he's done. He's a champ. He's an MVP, and he's hit a bunch of last-second shots. That's the time you have to put pride aside a little bit, and do what's best for the team. He's quickest, and he's gonna get a shot off. He relishes those moments.
That sounds like something we should all make a big deal about, but here's the thing: I bet LeBron would agree with that. It's kind of the life he signed up for when he went to Wade's team. That doesn't mean LeBron won't ever have his opportunity, but unlike the situations for
Kobe Bryant
,
Kevin Durant
,
Derrick Rose
or
Dirk Nowitzki
, it's not a given that LeBron gets that look. Even his own teammates say so, without hesitating.
Wednesday against the
Clippers
though, Wade played decoy and passed to LeBron at the end of regulation (LeBron was fouled and missed a big free throw). So they do interchange a bit.
But here we all are, mostly agreeing that
LeBron James
is the best player in the league and yet his own team doesn't want him taking the big shot. Isn't there something wrong with that? Does that say more about Wade, or does that say more about LeBron? Does Bosh, and the Heat, not trust LeBron or do they just believe in Wade that much?
Obviously Bosh isn't intending to take a dig at LeBron, but it's hard not to see it as that. He's saying Wade "relishes" those big moments which indicates that LeBron really doesn't. And there's proof of it: In Cleveland, where LeBron was The Man, he routinely passed to an open
Daniel Gibson
or
Larry Hughes
in the corner rather than taking things into his own hands. It's the player he is. He prefers to defer than dominate. It's his curse and his gift.
At this point though with the way the Heat are playing late in games, maybe he should've said
Mario Chalmers
.
Via TBJ