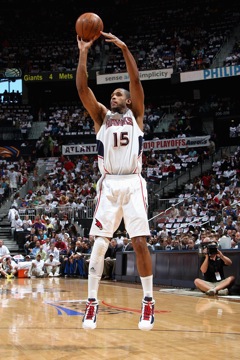 Posted by Royce Young
The light on the
Hawks
season just went dim.
According to multiple reports, center
Al Horford
is out 3-4 months with a torn left pectoral muscle. Which doesn't necessarily mean he's done for the year, but the optimistic side, three months, brings him back mid-April. The playoffs start at the end of April.
Horford was injured Wednesday
against the
Pacers
when he was blocked by
Roy Hibbert
on a dunk attempt. Horford left the game and did not return.
What this means for the Hawks is that they are not nearly as good as they were a day ago. They've started the season playing relatively solid basketball and a lot of that has to do with the consistentcy Horford gives them. Without him, the Hawks have
Zaza Pachulia
and
Jason Collins
in reserve. Which translates to big problems for Atlanta.
Not that the Hawks were a real contender, but then again, remember this team went to the Eastern Semifinals last season and played the
Bulls
pretty tough in six games. Horford isn't the East's best center, but he's certainly one of them. And not having him for most of the regular season is a massive blow.
How do you replace a guy like Horford, who was putting up 12.4 points and 7.0 rebounds a game with a PER of 20.0? It might not seem like a bunch, but he balanced the Atlanta offense. He gave
Josh Smith
the ability to be Josh Smith and provided a pressure release for
Joe Johnson
and
Marvin Williams
. He was off to a bit of a slow start this year anyway and was sure to pick it up. He's been a consistent 15-10 the two years prior.
The question is if the Hawks have a mind to try and make a deal to replace Horford or are they set with trying to let Pachulia and Collins handle the load? Or does Larry Drew dare try and get creative, letting Josh Smith drop down to the 5 with Williams playing power forward? There really isn't a good solution here right now. I've said it already, but this really is a massive blow to one of the East's playoff contenders.
The Hawks should still reach the playoffs in the East without him for these three months, but if he's not fully healthy for the postseason, Atlanta's season will end there abruptly.