Posted by
Ben Golliver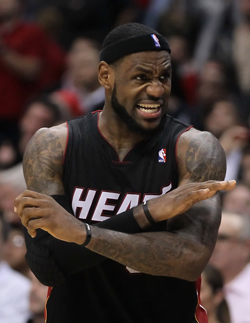 Sorry,
LeBron James
. You
melted down
in the clutch during an overtime loss to the Los Angeles
Clippers
on Wednesday, and you broke the rules while doing it.
The NBA announced on Thursday -- using
@NBAOfficial
, a new Twitter account dedicated to clarifying controversial refereeing decisions -- that James violated the league's traveling rules on a key late-game play.
"Yes, LeBron should have been called for traveling on this play last night," the NBA's
statement read
.
The play in question occurred during the final 10 seconds of regulation with the
Heat
looking to draw even with the Clippers. James drove to his left past Clippers forward
Caron Butler
, appeared to execute a jump stop, and then spun into a turnaround jump shot, which was interrupted by a bump from Clippers center
DeAndre Jordan
. Jordan was whistled for a foul on the play.
HardwoodParoxysm.com studied the tape
and noted that James did not properly execute the jump shot because he did not land with both feet simultaneously and that he slid his pivot foot as he moved to attempt the shot.
The traveling infraction, which was not called by the refereeing crew of Ron Garretson, Eric Dalen and Derek Richardson, occurred prior to Jordan's foul of James, which sent the Heat's All-Star forward to the free-throw line, which eventually led to overtime.
Despite some obvious frustration at the officiating, all was well that ended well for Los Angeles. The Clippers went on to defeat the Heat, 95-89, in overtime.
James finished with 23 points, 13 rebounds, 7 assists, 2 steals and 6 turnovers on 7-for-19 shooting. James missed eight free throws on the night, including three in the final 1:21 of regulation.
Here's video of the play in which the NBA publicly admitted that LeBron James traveled, courtesy of HardwoodParoxysm.com.