Posted by
Ben Golliver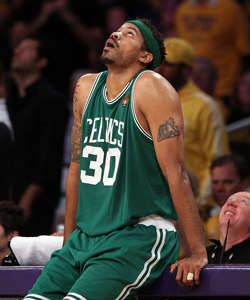 Déjà vu all over again.
One year and one day ago,
a report surfaced
indicating that 4-time NBA All-Star Rasheed Wallace was considering a return to the NBA after retiring prior to the 2010-2011 season.
History repeats itself:
Yahoo Sports reports
that Wallace, now 37-years-old, is once again getting the itch to return to the NBA hardwood.
Rasheed Wallace is contemplating a comeback to the NBA, league sources told Yahoo! Sports.

One league source who has talked with Wallace recently describes him as "serious" about a return to the NBA this season. Nevertheless, no teams contacted by Yahoo! Sports reported that they had any contact with Wallace, or his representative.
Once a physical forward with a feathery shooting touch, Wallace won a title with the 2004 Detroit
Pistons
and spent the final year of his career with the Boston
Celtics
. Wallace's former Pistons teammate,
Ben Wallace
, is also 37-years-old and still playing, albeit in limited minutes, for Detroit. Given the continued success of aging veterans like
Kurt Thomas
,
Juwan Howard
and
Grant Hill
, it's understandable that Wallace would survey the landscape and think he might be able to help a team in a lockout-shortened season that has seen players drop like flies due to injury.
Wallace was fairly durable into his 30s, playing at least 75 games in five of his last six seasons. During the lockout, Wallace played in the North Carolina Pro-Am. Austin Rivers, the son of Celtics coach Doc Rivers and a freshman guard at Duke University,
dunked over Wallace
during one of the Pro-Am games. Still, it's been 18 months since he's played in an NBA game. Any chance of a meaningful contribution would seem to be an impossibility and anything more than total indifference from GMs around the league would constitute a major surprise. Given Sheed's memorable personality and constant arguments with referees, though, there's surely a segment of hoops heads that would embrace a comeback with eager nostalgia.
According to Basketball-Reference.com
, Wallace made more $156 million in salary during his 15 NBA seasons. He posted career averages of 14.6 points, 6.7 rebounds and 1.3 blocks per game during a career that included stops with the Washington Bullets, Portland
Trail Blazers
, Atlanta
Hawks
, Pistons and Celtics.