Posted by
Ben Golliver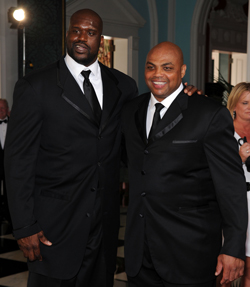 Rookie move.
Shaquille O'Neal spent 19 years in the NBA as arguably the most dominant center of all-time, but he's in his first year as a basketball commentator for TNT and he's off to a sloppy start.
During Thursday night's telecast if
Inside The NBA
, O'Neal accidentally said the word "s***" with his microphone still live as the crew went to a commercial break. O'Neal was on the set with host Ernie Johnson and fellow commentators Kenny Smith and Charles Barkley.
"You know who I blame for that s***, I blame..." Shaq began, before Smith cut in with an "Oh!" and the segue way to commercials could actually take place. O'Neal was not visible when he uttered the profanity, with the outro graphics already rolling.
Here's
video of O'Neal's slip-up
via
USA Today
.
Yahoo Sports notes
that the TNT panel tried to make amends for O'Neal's profanity by making light of it later in the broadcast.
The good news is that TNT characteristically managed to have a little fun with the moment. At halftime of the Grizzlies/Knicks game that kicked off the doubleheader, Shaq stuffed a bar of soap in his mouth to wash out all the bad words.
O'Neal's commentating work was recently the subject of some
mocking by Barkley
, who hosted
Saturday Night Live
last weekend and imitated his low-energy, marble-mouthed delivery. Barkley was also
caught on a live microphone
during a recent TNT broadcast referring to his endorsement of Weight Watchers as a "scam."
O'Neal
announced in June that he was retiring
from the NBA. By July, he had
signed with Turner
to join the popular TNT broadcast.