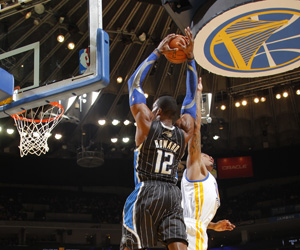 By Matt Moore
Yesterday was pretty much "Bad
Dwight Howard
News" for the
Warriors
on Thursday. Howard
missed an epic number of free throws
, and still
dropped 45 and 23 on the Dubs Thursday night
. And to top it all off, all that talk about the Warriors making a swing at Howard in trade? Yeah, Howards says no thanks.
From
Sports Illustrated.com
:
On topic of Dwight-to-Warriors, source says his agent, Dan Fegan, has made it clear to GS that Howard has no interest in playing there.
That doesn't necessarily bar the Warriors from making the gamble and acquiring Howard should their package prove tempting for Orlando, but it would be way too great of a risk for the Warriors to send
Stephen Curry
or
Monta Ellis
in the trade, and Orlando would insist on one star guard or the other.
So the Warriors, who lost
Kwame Brown
on Wednesday for most of the season with a chest injury, are now seemingly out of the Get Dwight race.
Ken Berger of CBSSports.com reported this week
that the Warriors have been very aggressive in the trade market and could make a move before the trade deadline as they continue to move towards a more defensive approach.
Golden State continues to struggle with attracting a big name free agent, despite having a raucous crowd, new aggressive ownership, a player's coach in Mark Jackson, and a large market in the nicer weather of California (not that San Francisco's really a treat this time of year, but it's nicer than say, Milwaukee). Evenually they may have to pull the trigger on sending one of those guards out in order to augment their supporting system, since it doesn't look like anyone will be shopping for
David Lee
under his sizeable contract any time soon.