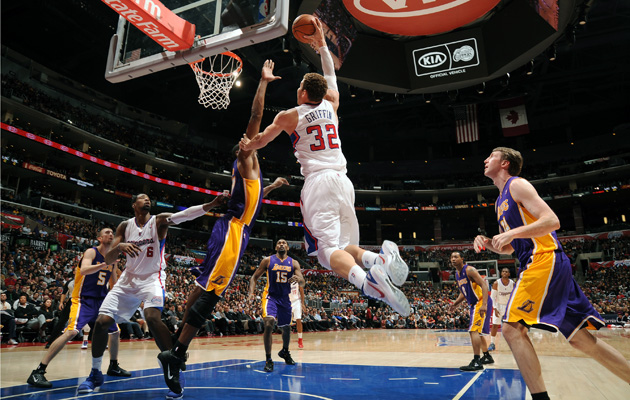 3-on-2 Fast Break is a weekly feature here on Eye on Basketball where our intrepid bloggers tackle two questions, comparing two elements. This week, we focus on Saturday night's showdown at Staples between the Los Angeles Cippers and Los Angeles Lakers. Follow Eye on Basketball on Twitter and like us on Facebook.
1. Let's keep it simple. Which of these two teams wins on Saturday night and why?
Royce Young:
Lakers. The Fighting Kobes are in a really good rhythm right now. Kobe is playing great,
Andrew Bynum
is looking dominant and all the pieces are fitting together. The
Clippers
kind of put all their eggs into the basket of beating the
Heat
and while I'm sure they'll be up for the Lakers, they've got to get past that overtime win first. And don't think the Lakers have forgotten everyone getting all excited about the Clips sweeping the two
exhibition
games at Staples in early December. People were talking about the changing of the guard in L.A., but those games didn't count. This one does.
Ben Golliver:
The Lakers have some serious positive momentum going thanks to a four-game winning streak which could become five if they top the Cleveland
Cavaliers
on Friday night. That the Clippers get two rest days heading into this one while the Lakers are stuck with the back-to-back gives Lob City an edge, but that probably cancels out the revenge factor that the Lakers are feeling after getting wiped up in two highlight-filled preseason games.
Chauncey Billups
has hit double figures and shot at least 6 free throws in four consecutive games for the Clippers; they will need his production if they are to keep pace with
Kobe Bryant
and company.
Chris Paul
finally had his signature game with the Clippers, scoring 27 points and making 11 assists in a Wednesday win over Miami and he gave the Lakers fits in last year's playoffs. I see him doing it again on Saturday to give the Clippers the win.
Matt Moore:
The matchups here are enough to make your head spin. All-Star, phenomenal, once-in-a-lifetime guards? Kobe Bryant and Chris Paul. Behemoth young centers with size, strength and defensive ability? Andrew Bynum and
DeAndre Jordan
. Crafty veterans on the wings? Ron Artest,
Derek Fisher
,
Steve Blake
and
Matt Barnes
against Chauncey Billups,
Caron Butler
, and
Mo Williams
. Power forwards with huge scoring ability who are almost unguardable?
Pau Gasol
and
Blake Griffin
. It's a tight set of matchups. I like the Clippers in this one. We saw what Paul was able to do against the Lakers in the playoffs last year, and they haven't upgraded a defender to guard him yet. On the other end, Pau Gasol doesn't like it when things get physical and the Clippers are in-you-face as they come. Bryant can swing this as he can any game, but I like Lob City to open up and outrun the older Lakers.
2. We know Kobe's going to score, Griffin's going to dunk, CP3 is going to dish, and Pau is going to do Pau things. But what's the big unknown in this game that will end up deciding it? Royce Young:
Points in the paint. Who gets the most easy baskets? Both teams are pretty solid defensively and both teams have players that can fill it up. But jumpshots only carry teams so far, especially late in games. The Lakers have Bynum and Gasol who are paint monsters, while Griffin gets a lot of his easy in transition. Execution will be tough because you know this game will be physical. It's going to come down to the little things like free throws, turnovers and again, easy baskets in the paint. Both teams can defend it well, but who is going to break down the other defense enough to score simple points.


Ben Golliver:
The answer to the big unknown question is
always
Andrew Bynum. He poured in his career-high 42 points against DeAndre Jordan back in 2009 and he's shown spurts of serious offensive productivity in this young season. Given that the game is on the second end of a back-to-back there's no guarantee that Bynum can fully exploit what is an exceedingly difficult match-up for Jordan. The only person who can keep Bynum off the offensive glass in this one is himself. The Clippers are second-to-worst in rebound rate on the young season and Jordan can be bullied with Bynum's width and strength.


Matt Moore:
Turnovers. The Lakers have turned the ball over a stunning amount this season up until the past few games, also notably the best games of Bryant's season. The Lakers are last in
turnover percentage differential
, while the Clippers are top-four in that same category. The Clippers also rank 3rd in transition offense according to Synergy Sports. The Lakers are ninth in transition defense. If the Clippers can get out and run, that's going to put more wear and tear on an older and banged up Lakers team. But if the Lakers get to grind it out, expect the Lakers' superior experience to win the day.