Posted by
Ben Golliver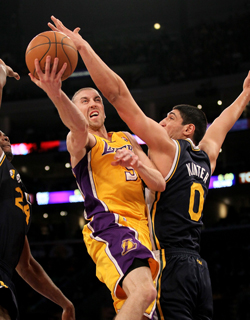 Los Angeles
Lakers
reserve point guard
Steve Blake
is going to miss some time, after all.
The Lakers announced on Friday that Blake will be out "approximately 3-4 weeks" after suffering a rib cartilage injury during a game against the Phoenix
Suns
on Tuesday.
The announcement comes one day after the Lakers issued a press release stating that an MRI had revealed "a costochaondral fracture (fracture of the cartilage that connects the rib to the sternum)" but that Blake was going to be listed as day-to-day, pending a re-evaluation.
Blake played 18 minutes in L.A.'s game against the Utah Jazz on Wednesday and the Lakers said in the release that Blake "re-aggravated" the injury during that game. Blake did not play during the Lakers' Friday night win over the Cleveland Cavaliers.

Blake, 31, is a key member of L.A.'s backcourt. A low-risk, low-reward, heady veteran spot-up shooter, Blake is averaging 7.3 points and 2.8 assists in 24.3 minutes per game so far this season.

In Blake's absence, Lakers coach Mike Brown turned to rookie guard Darius Morris against Cleveland. Expect that to continue, as the pickings are slim behind starters Derek Fisher and Kobe Bryant.

The Lakers are currently on a 5-game winning streak as they head into a Saturday night showdown with the Los Angeles Clippers.