Posted by
Ben Golliver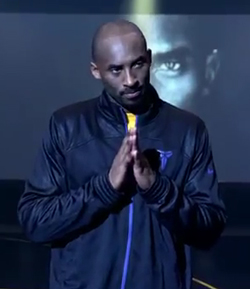 NBA MVP, Olympics Gold Medalist, 5-time title-winner, scoring champion and, now, motivational speaker.
Whoe else but Los Angeles
Lakers
All-Star guard
Kobe Bryant
?
In a new Nike ad campaign -- dubbed the "Kobe System" -- Bryant stars as a self-help guru for incredibly successful people who are looking to become even more successful.
In the introductory minute-long spot, Bryant emerges onto a stage in front of an audience which includes the likes of music star Kanye West, NFL Hall of Famer Jerry Rice, United States Men's National Team soccer player Landon Donovan, billionaire Richard Branson, comedian Aziz Ansari and others.
"You're at the top of your games," Bryant says, before addressing the crowd one-by-one. "You've got prestigious awards. You're a Chinese mega-star. You own outer-space. You got here by accident. So what's next? Where do you go from the top. You go over the top."
He then explains his philosophy.
"The Kobe System is about adaptation: attacking fast and strong. How do you know when you're in the Kobe System? Look at your feet. How do you use the system? Listen to me."
With that, Bryant proceeds to dunk a basketball and a highlight reel of his plays rolls.
"The KobeSystem: Success for the Successful is Kobe's winning, results-oriented philosophy on how to adapt to succeed. You're Welcome," the ad's tagline reads.
I guess it's believable, as long as Bryant the guru doesn't pitch
divorce-related legal advice
.
Here's the video
of Kobe Bryant's new "Kobe System" Nike ad via YouTube user NikeBasketball.